Artificial playground turf from Nevada Artificial Grass is a beneficial surfacing material for homes, parks, schools, businesses, and other playgrounds and play areas in Reno, NV. This highly specialized synthetic grass is designed with children in mind. As such, it is a highly durable, soft, even, and easy-to-clean surfacing alternative to traditional grass, sand, wood chips, and other common playground materials. Discover all of the benefits our artificial playground grass has to offer and where it can be installed below:
Playgrounds & The Need for Quality Play Surfacing in Northern Nevada
Ask nearly any child what their favorite time of the school day is, and they will almost always tell you that it is recess or playtime. Recess or playtime is an essential part of every school day or even every day at home. It is a chance for children to get some exercise, burn some excess energy, and explore the world and new ideas through play.
To help provide children with an ideal environment for play, it is best for schools, homes, and communities to have dedicated play places like playgrounds that are as clean and safe as possible. Fortunately, installing artificial playground turf from us at Nevada Artificial Grass can help achieve those goals because our playground grass has been specially engineered for children as well as adults who maintain play areas.
The Benefits of Artificial Playground Turf From Nevada Artificial Grass
At Nevada Artificial Grass, our artificial playground turf offers numerous benefits, which is what makes it ideal for playgrounds in practically all settings. These benefits include the following:
Soft, Cushioned Synthetic Grass
Safety is a crucial factor for playgrounds and play areas on residential, commercial, and municipal properties in Reno, NV. Fortunately, our artificial playground grass can help make these areas safer than other surfaces. This is because our synthetic playground turf features an extra layer of cushioning, which helps absorb impacts. This helps keep children safer from potential injuries if they fall on the turf, and it also helps support their joints and muscles as they run around on it.
Less Maintenance
Groundskeeping is an essential part of owning traditional grass surfaces. But unfortunately, conventional grass maintenance can be time-consuming. With artificial playground turf, there is no need for mowing and edging playground grass. There will also be no need for near-constant watering, which can help with your budget. Our artificial playground grass is essentially self-sufficient. Once installed, it will only need occasional cleanings.
Ultimately, by reducing grass maintenance, you can minimize lawn upkeep time and save money. This makes our synthetic playground turf a cost-effective investment for homes, schools, parks, and more.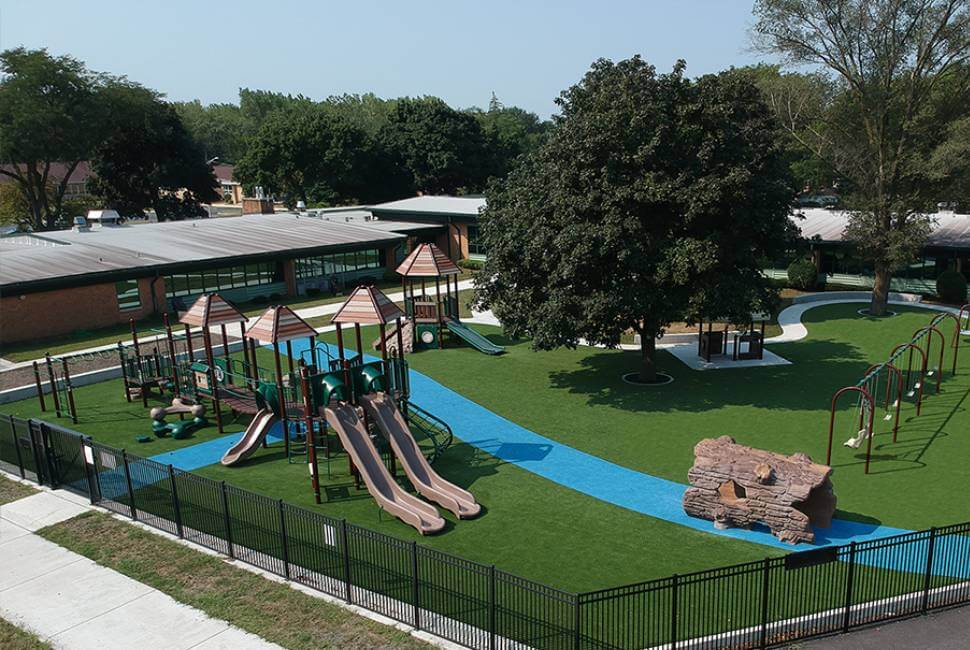 Long Lasting
A conventional grass playground at a school can be worn out at the end of the school year. There will most likely be divots, brown spots, and patches of bare soil. But that is expected when kids are playing on a playground practically every day. Thankfully, none of those issues will occur with artificial playground turf from Nevada Artificial Grass. Once installed, our synthetic playground grass looks consistently great and resists wear and tear, making it a long-lasting surface for properties in Reno, Nevada.
Cleaner
With traditional grass on an outdoor playground or play area, it can inevitably lead to mud. Whether from rain or from sprinklers, mud can create a huge mess, especially when children are involved. Fortunately, with our playground turf, you can avoid mud and messes.
Yet, mud is the only issue to contend with on a conventional lawn. There is also the potential for grass stains. Those stains are a burden to every parent who struggles to keep up with the laundry. Yet, when kids roll, slide, and dive around on artificial playground turf, they will not get a single grass stain.
The Many Applications for Playground Turf
At Nevada Artificial Grass, our artificial playground turf has many applications beyond schools. It can also be installed virtually anywhere children enjoy playing, including:
Homes
Shopping malls
Parks
Recreation areas
Restaurants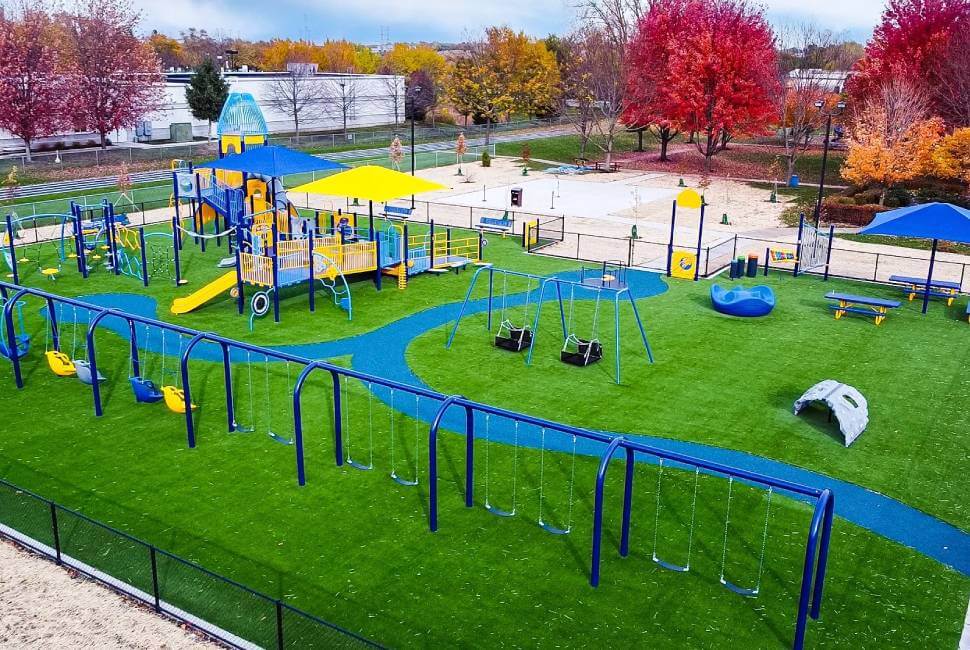 If you have a playground or play area on your property in Reno, NV, it can be enhanced with our synthetic playground grass!
Contact Us Today to Learn More About Our Artificial Playground Grass!
At Nevada Artificial Grass, our artificial playground turf is highly beneficial for children and adults, which makes it ideal for homes, businesses, parks, schools, and more in Reno, NV. Contact us today to get synthetic playground grass that is safer, cleaner, and longer lasting!