Welcome to Nevada Artificial Grass, a leading artificial grass supplier and installer based in beautiful Reno, Nevada. If you are looking for a dependable company to provide you with quality artificial grass, you have come to the right place! We are proud to be a locally owned and operated company, and we commit ourselves to performing quality work for home and business owners in our community as well as several other communities across Northern Nevada, including Sparks, Carson City, and Lake Tahoe. Artificial Grass Installations in Northern Nevada
Are you interested in synthetic landscaping for your home or business? Do you need soft green turf for pets or children to play on? Maybe you need a putting green for your leisurely Sunday mornings at home, or maybe you need one for the office for some company team building? No matter what your artificial turf project is, we have you covered at Nevada Artificial Grass.
The possibilities for our artificial grass installations are practically endless. Some of the many popular applications for our synthetic turf and artificial grass products include:
At Nevada Artificial Grass, we have a wide selection of artificial turf products to help address a variety of residential and commercial surfacing needs in Reno, Nevada and many of its neighboring communities.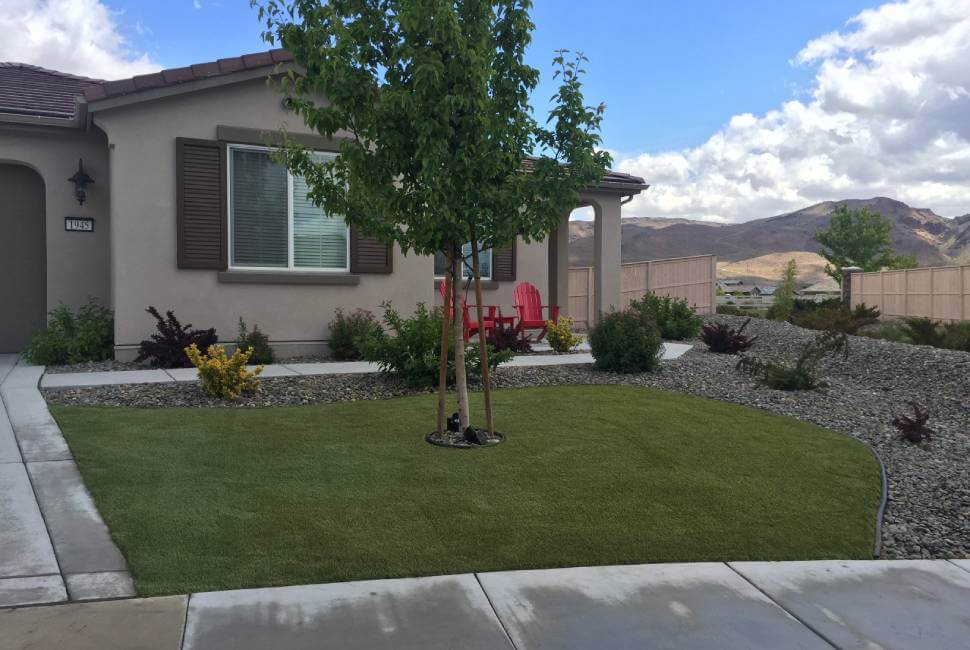 Why Choose Nevada Artificial Grass?
Quality Synthetic Grass Products:
Artificial grass and synthetic turf are increasingly popular forms of indoor and outdoor surfacing, especially in Northern Nevada. However, not all turf is made equal. At Nevada Artificial Grass, we supply our customers with and install high-quality synthetic grass and artificial turf products that are manufactured right here in the United States of America. As a result, our many synthetic turf products are Earth-friendly, water-friendly, and pet-friendly. They are also low maintenance and highly durable against foot traffic, the weather, and several other factors. This makes our artificial grass products an environmentally and monetarily sound investment for your home or business' surfacing needs.
Professional Installations:
At Nevada Artificial Grass, we have been a reliable Licensed State Contractor in Nevada since 2004, and we have been doing quality synthetic grass installations since then. Our qualified synthetic turf installer, Aaron, has a phenomenal reputation in the artificial grass installation industry. Not only does he have almost two decades of experience, but he is also the only Synthetic Turf Council (STC) Certified Turf Installer in Northern Nevada. This certification, called STC Certified Turf Installer-Landscape (CTI-L), is only for installers who have met the required criteria of experience, performance, and customer satisfaction.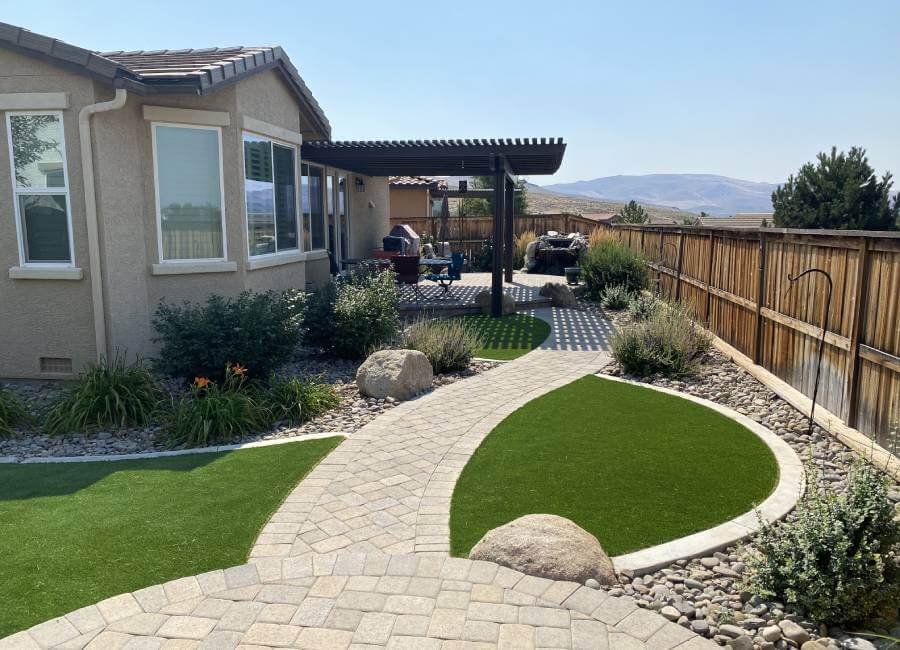 Certified by the Synthetic Turf Council (STC)
The Synthetic Turf Council (STC) was founded in 2003, and they have become a trusted, independent source of information for buyers in the synthetic turf industry. They are a 501©6 non-profit trade association, and businesses can apply to become members. Contractors can also apply for their STC Certification Program. Not only does this council assist with the selection and use of artificial grass, but it also provides technical guidance and information on things like maintenance, safety, and environmental impact. At Nevada Artificial Grass, we are so grateful and fortunate to be a member of this amazing organization.
Please feel free to look up Aaron's STC Certification information (CTI-L #00025).

Contact Us for a Free Artificial Grass Consultation!
Whether you are looking to install artificial grass in the backyard of your home or you want to outfit your business with synthetic turf landscaping, the team from Nevada Artificial Grass can handle the task! Our experience, professionalism, and quality products make us a top choice for artificial grass installation in Reno, NV and other Northern Nevada communities, including Sparks, Carson City, Lake Tahoe, and more!
Contact us today to receive a free artificial grass quote for your home or business!