Eco-Friendly Turf Installation Services In Northern Nevada
As artificial grass experts in Northern Nevada, Nevada Artificial Grass provides residential and commercial properties in Reno, NV and more with professional artificial grass installation. Whether you want to make the switch to synthetic turf for your own backyard, your business' landscaping, or a municipal park, our team offers extensive artificial grass installation services to fulfill a variety of landscaping desires and needs. With our expertise, we can help transform your home or business' landscaping, making it low maintenance, cost-effective, environmentally friendly, and stunningly beautiful all year round.
Artificial Turf Design & Planning
At Nevada Artificial Grass, our synthetic turf installation services go far beyond the installation itself. Our services include landscape design and planning that help capture the look you want for the space with a budget that works for you. We work with you every step of the way to help you visualize and get a feel for your new space before the physical installation process even begins. When organizing and space planning, we take your ideas, goals, and style preference all into account. In doing so, we craft artificial grass landscapes that suit the needs of your Northern Nevada home or business.
Northern Nevada Landscaping
As a Reno-based artificial grass company, our team of synthetic lawn experts is more than familiar and experienced with Northern Nevada landscaping. As a result, we are able to seamlessly blend our ultra-realistic artificial grass surfaces with existing landscaping features, such as garden beds, pools, trees, decks, patios, and native plant life. With a natural look, our environmentally friendly artificial grass is an ideal addition to nearly any outdoor space in Reno and other Northern Nevada communities, ultimately providing you with a beautiful green lawn without the constant maintenance, allergens, and odors associated with a traditional lawn.
Types of Artificial Turf Installations We Provide:
At Nevada Artificial Grass, we offer multiple kinds of artificial turf. This allows us to provide surfacing solutions for a variety of residential and commercial spaces. It also ensures that we are prepared for numerous types of synthetic grass installations. Some of the most popular artificial turf installations we provide to our neighbors in Reno, NV and more include:
Although these types of artificial grass installations are among our most popular, they are not the only installations our team offers. Contact us today to learn more about our synthetic turf installations and what our team can do for you!
Areas We Serve:
Our team provides Northern Nevada artificial turf landscaping ideas and installations to each of the following cities:
Artificial Grass Lawns Gallery
Why Choose Nevada Artificial Grass for Turf Installation?
At Nevada Artificial Grass, we are a leading choice for artificial grass installation in Reno and numerous other communities due to our quality turf products and installation expertise. We offer a wide selection of synthetic turf options that help address specific needs. Yet, no matter which of our products you choose for your project, you can be assured that it is ultra-realistic in look and feel and engineered to last for years to come.
Since 2004, Nevada Artificial Grass has provided our neighbors in Reno, NV with professional artificial turf installations. Our primary installer, Aaron, is the only Synthetic Turf Council Certified Turf Installer in Northern Nevada. He received his certification not only for his expertise in artificial grass installation but also for ensuring customer satisfaction throughout each and every installation.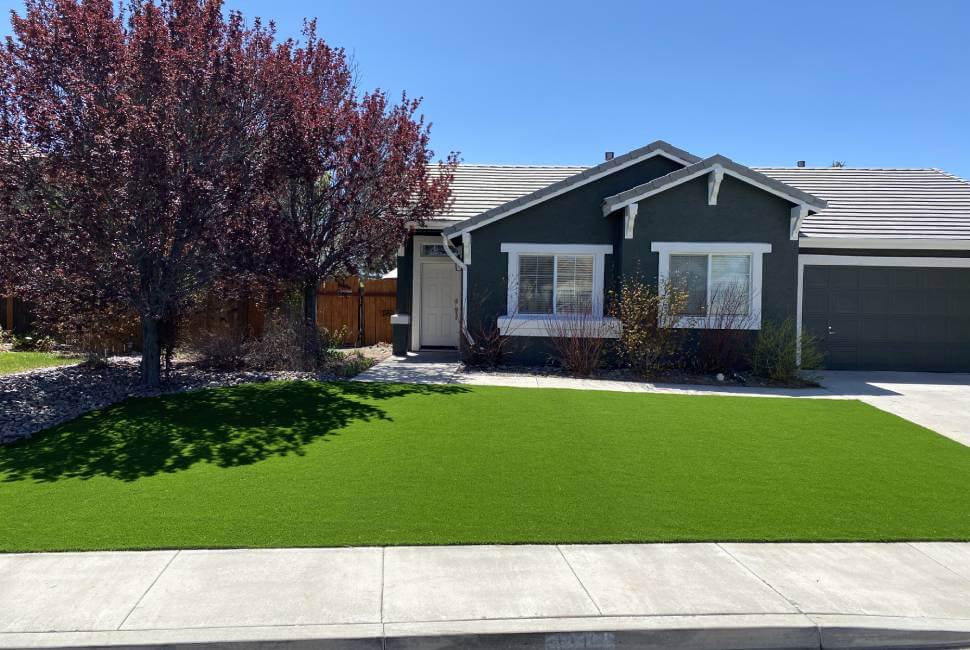 Contact Us Today to Learn More!
With artificial landscaping installations from Nevada Artificial Grass, Northern Nevada residents can enjoy greener, more durable surfaces than ever before. We not only provide quality synthetic turf products but also tailor each artificial grass installation to the needs and desires of our customers. So contact us today to schedule a free consultation to learn more about getting started on your very own synthetic grass landscaping project!