Go Green In Northern Nevada With Eco-Friendly Artificial Grass Installations
High-quality artificial grass lawns and landscaping are available for installation in Lake Tahoe, NV from Nevada Artificial Grass. In a community that is known for its small-town feel, it is essential to have a lawn that matches those friendly vibes all year round.
Thankfully, our artificial grass landscaping solutions make it easy for Lake Tahoe residents to forego the mowing, de-weeding, seeding, and watering that come with traditional grass, so you can move on to the more fun parts of an outdoor lifestyle: relaxing on a porch swing, inviting friends over for a barbecue, boating, or hiking with friends and family.
Our synthetic grass helps give your Lake Tahoe home or business the look you have always wanted – without the maintenance!
Eco-Friendly Roots
It's innovation that takes our communities forward and innovation that protects our planet for generations to come. At Nevada Artificial Grass, we are committed to delivering eco-friendly surfacing solutions that enhance the beauty of Lake Tahoe. That is why we use artificial grass that is completely free of toxic crumb rubber. In fact, our products are made from renewable resources, such as soybean oil, and also use recycled materials! As a result, our products look more natural, last longer, and feel softer than the competition's – all while being environmentally friendly.
Advantages of Artificial Landscaping Grass
There are a lot of benefits that come with choosing Nevada Artificial Grass and our line of quality artificial turf products. By installing our synthetic grass on your residential or commercial property in Lake Tahoe, NV. You can experience the following advantages:
Consistently lush & green grass
Low-maintenance lawns or landscaping
Enhanced durability
Superior drainage rates
No mud or traditional grass stains
Fewer pests in your grass
No production of traditional grass allergens
Limited lifetime warranty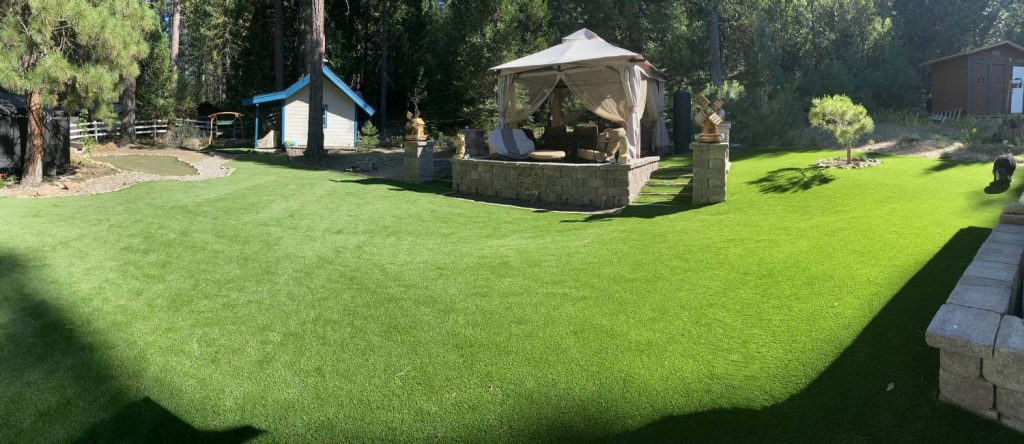 These advantages and more make our exceptional artificial grass an ideal surfacing solution for properties throughout the Lake Tahoe area!
Synthetic Turf Options for Lake Tahoe, NV
Whether you want a backyard putting green, a lush lawn for the family, or a low-maintenance solution for that muddy spot in the backyard, at Nevada Artificial Grass, we have options for you. Our team will work with you to understand your needs, so we can match you with the turf that fits your space in Lake Tahoe, Nevada. Some of our many artificial turf options include:
At Nevada Artificial Grass, we believe that high-quality synthetic surfaces help make the world a more inviting, eco-friendly place, which is why we offer a variety of artificial turf options for numerous spaces and purposes.
Why Choose the Experts from Nevada Artificial Grass?
Artificial grass solutions are what we do at Nevada Artificial Grass. Not only do we provide residential and commercial properties in Lake Tahoe with quality synthetic turf products, but we also provide them with our artificial grass design and installation expertise. By working with us, we can help identify the right faux grass product and design to fit your specific needs. Then, our team of installers can ensure that your synthetic grass is properly installed, so it will last for years to come! At Nevada Artificial Grass, we are a leading, full-service artificial grass company serving communities all over Northern Nevada, including our neighbors in Lake Tahoe.

Schedule a Free Artificial Turf Consultation Today!
At Nevada Artificial Grass, we provide homes and businesses in Lake Tahoe, Nevada with eco-friendly artificial grass surfacing solutions. Our quality synthetic grass and artificial turf products offer consistent visual appeal, durability, little upkeep, and several other advantages over traditional grass, making them ideal options for lawns and landscaping. We also offer several kinds of specialized synthetic turf, including pet grass, artificial golf greens, and others!
Learn more about artificial grass installation in Lake Tahoe, NV today by contacting us for a free consultation!