At Nevada Artificial Grass, our artificial grass for schools is more popular than ever in Reno, NV because it provides a cost-effective way to transform your school's outdoor spaces for the better. By installing it, you gain grass surfaces that are consistent, attractive, soft, low-maintenance, and highly durable. Therefore, having artificial grass and playground turf can be an exceptional addition for your institution.
Top Reasons to Install Artificial Grass for Schools
Here at Nevada Artificial Grass, our team understands that there is a growing demand for safer playing environments at schools in Reno, Sparks, and other Northern Nevada communities. To help address this demand, we offer and install different types of artificial grass, including our synthetic playground turf. These two incredible types of artificial turf can offer schools several notable advantages, including the following:
Less Maintenance
As many schools already know, having traditional grass on your property can be incredibly costly. Conventional grass requires several forms of regular maintenance, such as frequent watering, trimming with a lawn mower and other types of equipment, fertilizing, reseeding, and removing weeds. Each of these types of upkeep can take significant portions of time and add up to immense costs.
Fortunately, our artificial grass and playground turf for schools require little maintenance. You never need to worry about watering, cutting, fertilizing, reseeding, or removing weeds from it. Instead, you and your students can benefit from its consistent look and feel without having to dedicate hours of time or hundreds of dollars to care for it.
Artificial Grass Lawns Gallery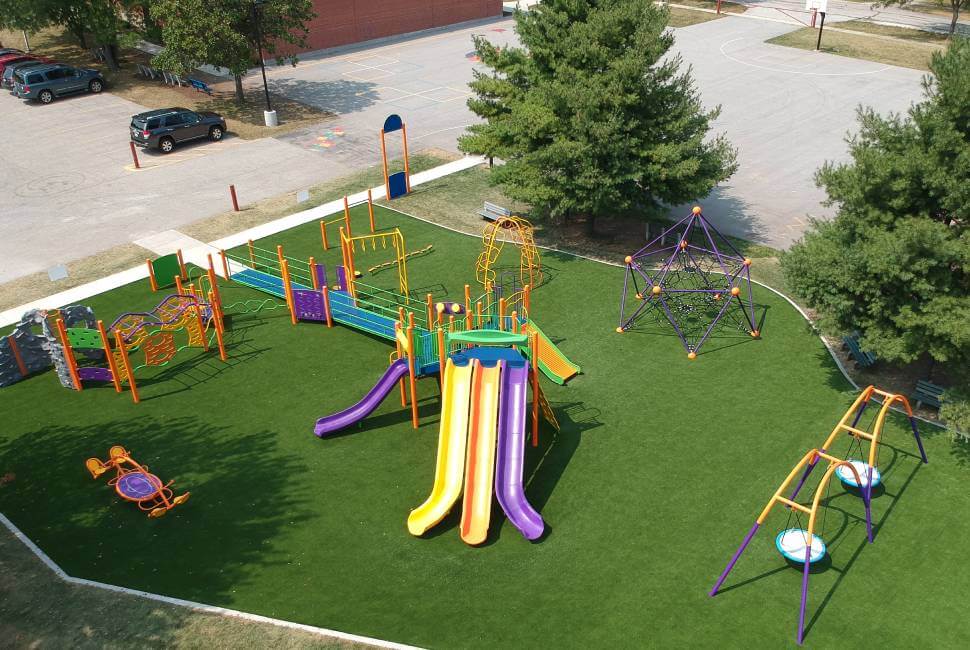 Visual Appeal
Schools are vital parts of their community. They help educate the youth, and in many ways, they serve as community centers. Because of this role, it is beneficial for schools to always look their best, including their grass surfaces. Thankfully, at Nevada Artificial Grass, our artificial grass products are highly realistic, which allows your school to own grass that is beautifully lush and green. And since our turf is synthetic, it maintains this look for years without issue!
Safer Playing Grounds
Play is an essential part of the day for students at schools, especially younger students. Thankfully, at Nevada Artificial Grass, we offer artificial playground turf that can help provide a safer surface for playgrounds and other play areas. This turf features extra padding to help absorb shock from impacts with the surface. This helps reduce the potential for surface-related injuries. As a result, our synthetic playground grass helps keep children at schools safer.
Aids in Water Conservation
In Reno, Nevada, schools and other properties often experience the effects of droughts, depending on yearly rain and snowfall. During these periods, it is crucial to help conserve water. However, this is challenging when a property owns conventional grass lawns and landscaping that need dozens of gallons of water to retain their green appearance.
At Nevada Artificial Grass, our artificial turf products never need to be watered to look their best. As such, your school can help conserve water whether there is an ongoing drought or not, which is helpful in Reno and other Northern Nevada communities.
Durability
Schools are places that experience a lot of foot traffic nearly every day. Fortunately, our synthetic grass and playground turf are designed to withstand wear and tear from foot traffic, inclement weather, and more. This helps guarantee that your school's surfaces will maintain their soft feel and inviting look. It also helps ensure that our artificial turf products will provide a lasting surface for your school for years to come.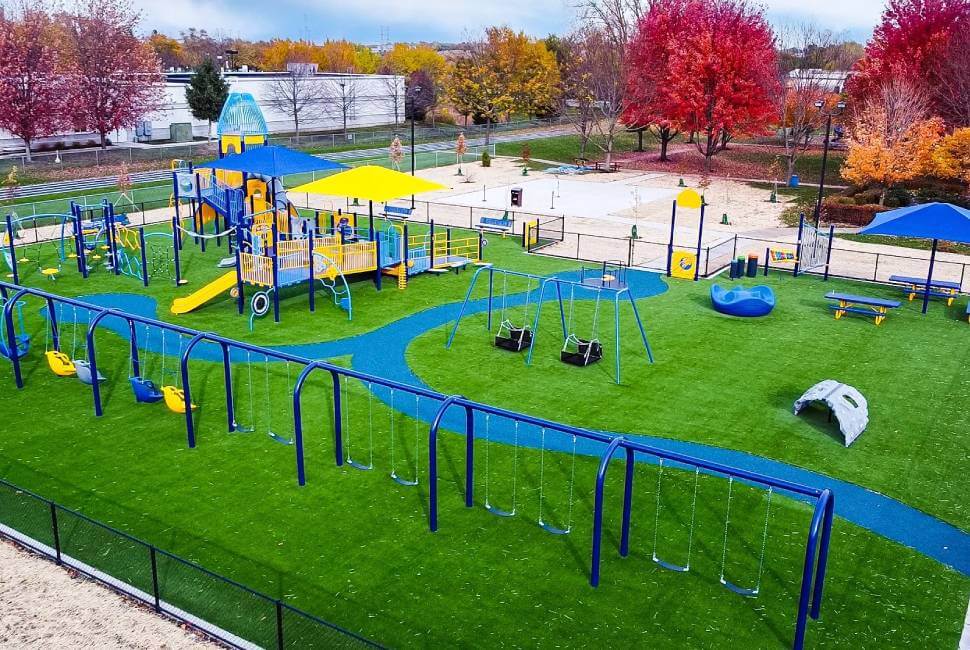 Contact Us to Learn More About Artificial Grass for Schools
At Nevada Artificial Grass, our artificial grass for schools in Reno, NV provides a remarkable opportunity for them to improve their surfaces. Our artificial grass and high-quality playground turf reduce maintenance needs and last for years. Our playground grass also provides a safer playing surface for children.
If you are interested in artificial grass installation for your school in Reno, Nevada, contact our team today! One of our friendly experts can help you identify the areas in and around your school that can be improved with our stellar artificial turf products!