If you are tired of the constant lawn maintenance that comes with traditional grass in Dayton, NV, look no further than the many artificial grass options available from Nevada Artificial Grass. Our team is a trusted and professional supplier and installer of premium synthetic grass solutions. We offer a wide range of artificial turf options, which can be tailored to your specific needs – from residential lawns to commercial spaces, putting greens to pet-friendly surfaces, and more. Discover the details on our products available for installation in Dayton, Nevada, below:
Residential Artificial Grass: A Lush Green Lawn Without the Hassle
Maintaining a beautiful conventional grass lawn in Dayton can be a real challenge due to the region's climate. Fortunately, residential artificial grass from us at Nevada Artificial Grass offers a smart solution. Our residential turf is designed to mimic the look and feel of traditional grass surfaces that are healthy but without the constant need for watering, mowing, or fertilizing.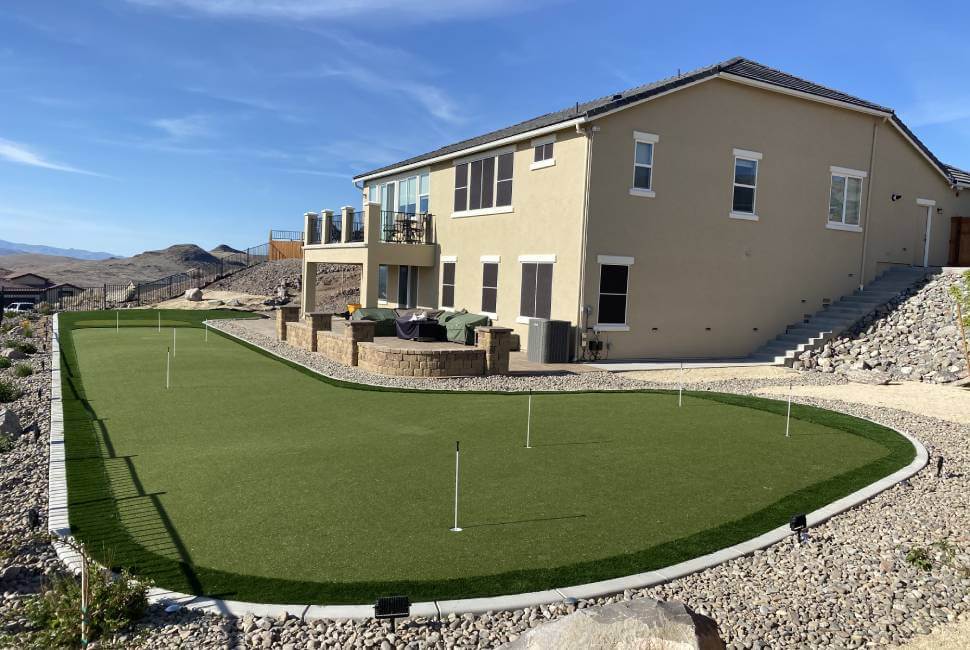 This is because our synthetic grass for residential lawns is made from high-quality materials that not only look incredibly realistic but are also durable enough to withstand the desert sun. As a result, it is an incredible solution for homeowners in the area who want a lush, green lawn year-round without the hassle.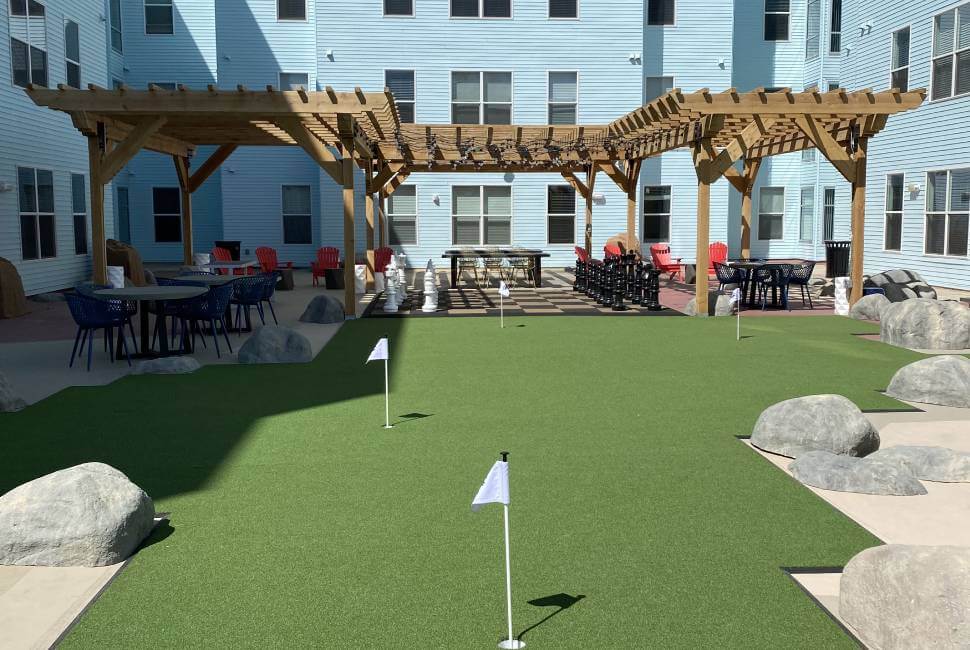 Putting Greens: Elevate Your Golf Game at Home
Do you love golf? Then turn your backyard into a golfer's paradise with our professionally installed artificial grass putting greens. The team at Nevada Artificial Grass specializes in designing and installing custom synthetic golf greens that closely replicate the conditions of professional golf courses. Whether you are a seasoned golfer or just looking for a fun family activity, our artificial putting greens can be the perfect addition to any home or business in Dayton, NV.
Our artificial grass golf greens are engineered to provide a consistent and smooth putting surface, making it easy to improve your golf skills right in your own backyard. Plus, they require minimal maintenance, so you can spend more time perfecting your swing and less time on upkeep.
Pet Grass: The Ultimate Solution for Pet-Friendly Yards
Pets are an important part of many Dayton households, and Nevada Artificial Grass understands that. Our artificial pet and dog grass is designed to create a more comfortable and safer environment for your furry friends. It is made from non-toxic, lead-free materials that are easy to clean, which helps ensure your yard stays fresh and odor-free.
Our pet-friendly artificial grass is also resistant to digging and tearing, so you do not have to worry about your pets ruining the lawn. So say goodbye to muddy paw prints and hello to a clean and beautiful yard that both you and your pets can enjoy!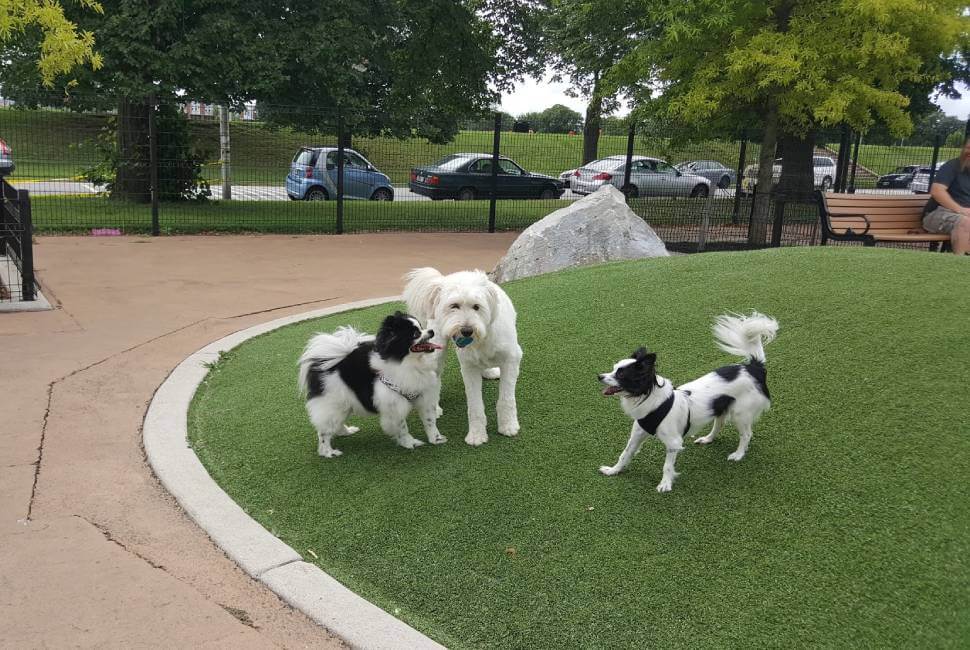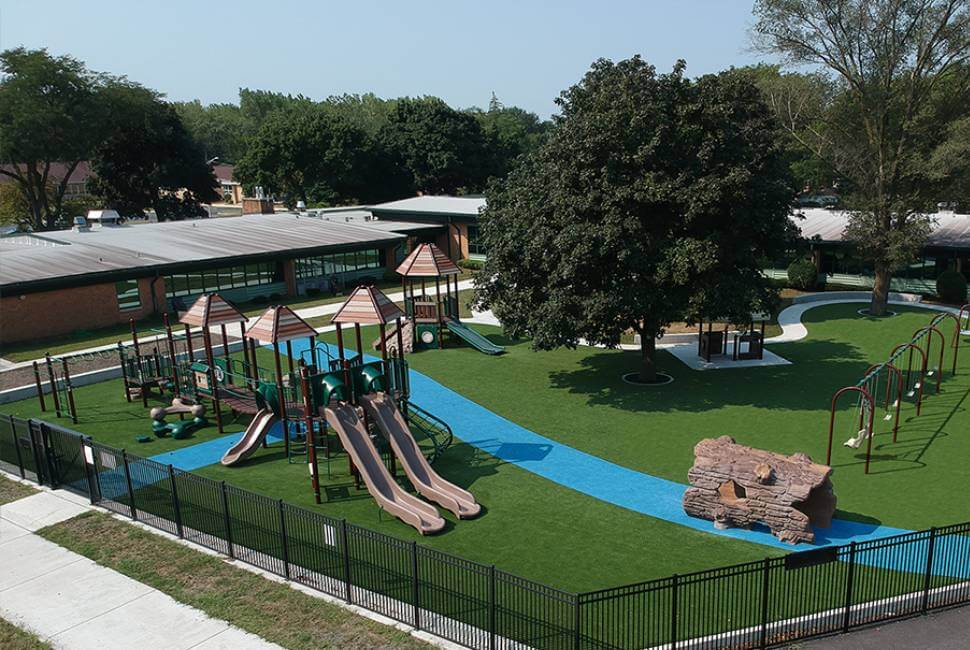 Playground Turf: Safer Play Areas for Kids
Creating a safe and enjoyable play area for children is a top priority for parents and caregivers. Thankfully, at Nevada Artificial Grass, our artificial playground turf is designed with the safety and happiness of kids in mind. It provides a cushioned surface that helps reduce the risk of injuries from falls, making it an excellent choice for schools, parks, and residential playgrounds alike in Dayton, NV. Our synthetic playground grass is also low-maintenance, easy to clean, and resistant to wear and tear. This helps ensure that it remains a safer and more inviting play surface for years to come.
Commercial Artificial Grass: Enhance Your Business Space
Nevada Artificial Grass is not just for residential properties in Dayton; our team also specializes in commercial artificial grass solutions. Whether you own a hotel, restaurant, office complex, or any other commercial property in Dayton, Nevada, our synthetic turf options can assist in enhancing the aesthetics and functionality of your indoor and outdoor spaces. 
Our commercial artificial grass is durable, low-maintenance, and can withstand heavy foot traffic, making it ideal for landscaping, rooftop gardens, and outdoor seating areas. It creates an inviting atmosphere that will leave a lasting impression on your customers and clients.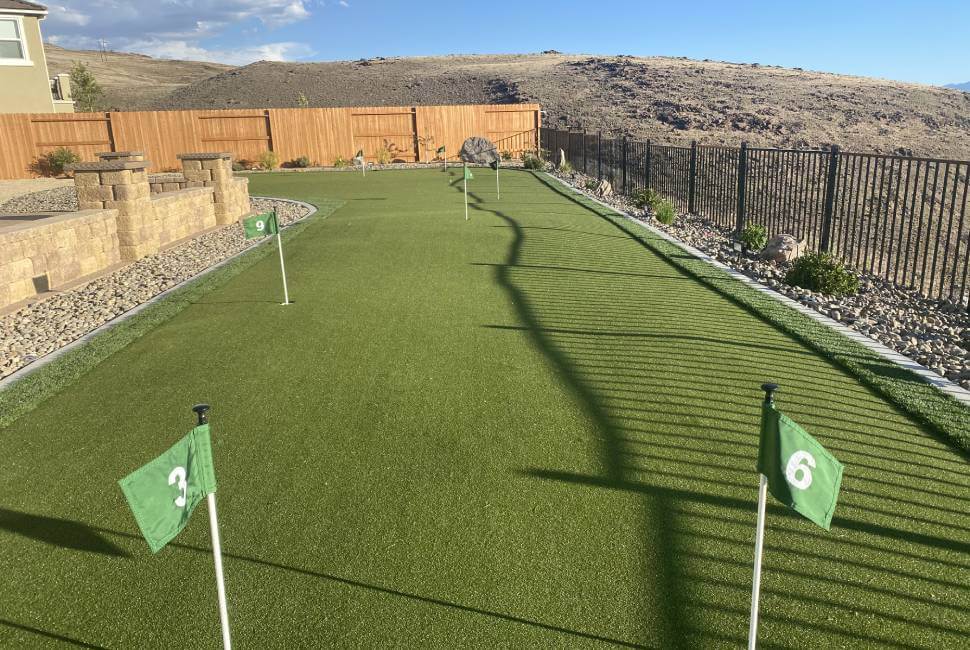 For More Information, Contact Us Today!
Nevada Artificial Grass is your one-stop destination for all your artificial grass needs in Dayton, Nevada. Whether you are looking to transform your residential property, create a backyard putting green, provide a safer and cleaner environment for your pets, or enhance your commercial space, we have the right artificial grass solution for you. Contact us today to schedule a consultation and take the first step towards enjoying the benefits of a lush, green lawn without the hassle of traditional grass!