For various artificial golf installations, home and business owners turn to us at Nevada Artificial Grass for indoor putting greens in Reno, NV. We offer championship-quality artificial turf for golf, which can be installed both outdoors and indoors. In many situations, it is best to utilize our synthetic golf grass indoors in order to own a more sheltered putting green that allows golfers and golf enthusiasts to escape the weather and practice in a more controlled environment. Yet, these are not the only benefits of working with us at Nevada Artificial Grass for artificial indoor putting greens. We offer our clients several advantages, which can be discovered below:
The Advantages of Owning a Residential or Commercial Indoor Putting Green
Putting greens are an essential and wonderful part of the golf experience. They provide professional, casual, and amateur golfers alike with a space to play or practice their short game, which is one of the most crucial aspects of the game itself. However, traditional grass putting greens can be a nightmare for home and business owners, especially when installed outdoors in Northern Nevada. These spaces require frequent upkeep but are also subjected to the windy, warm, and sometimes snowy weather, which can leave them virtually unplayable.
Fortunately, at Nevada Artificial Grass, we offer golfers as well as home and business owners an exceptional alternative to conventional putting greens. Instead, our team provides artificial grass putting greens, which can be added indoors or outdoors on both residential and commercial properties in Reno, Sparks, Carson City, and Lake Tahoe, NV. By installing them indoors, golfers can play and practice their favorite game whenever they like – even when there is inclement weather outdoors. They can also work on their short game without having to worry about warm, blinding sunshine or troublesome wind.
The Benefits of Using Our Indoor Golf Grass in Reno, NV
An indoor putting green can be an elegant and fun addition to nearly any property in the Reno, Nevada area. Yet, it can also be highly beneficial when utilizing artificial golf grass from us at Nevada Artificial Grass. Our synthetic golf surfacing offers users several significant benefits, including the following:
Artificial Grass Lawns Gallery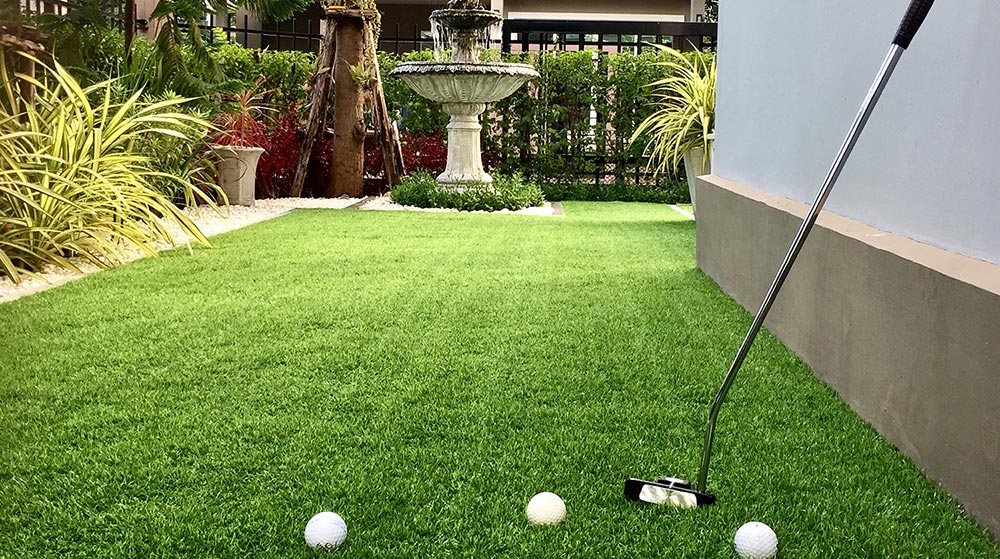 Highly Playable Surfacing
At Nevada Artificial Grass, our EnvyGolf artificial grass is specifically designed for golf and putting. As such, our synthetic alternative realistically captures the look and feel of championship-quality golf courses and mimics the ball roll and bounce one would expect playing on conventional golf surfaces. This makes it an earth-friendly and highly playable surface for Northern Nevada golfers to enjoy.
Long-Lasting Golf Turf
Another benefit to utilizing synthetic golf turf is its durability, which leads to impressive longevity. Unlike traditional golf greens, our artificial golf grass resists wear and tear from the game as well as foot traffic. It is also less susceptible to other elements like the weather. And when used for indoor putting green installations where weather conditions are of little concern, the immense durability of our synthetic golf turf allows it to be an even longer-lasting surfacing solution for an indoor putting green, making it a highly cost-effective investment.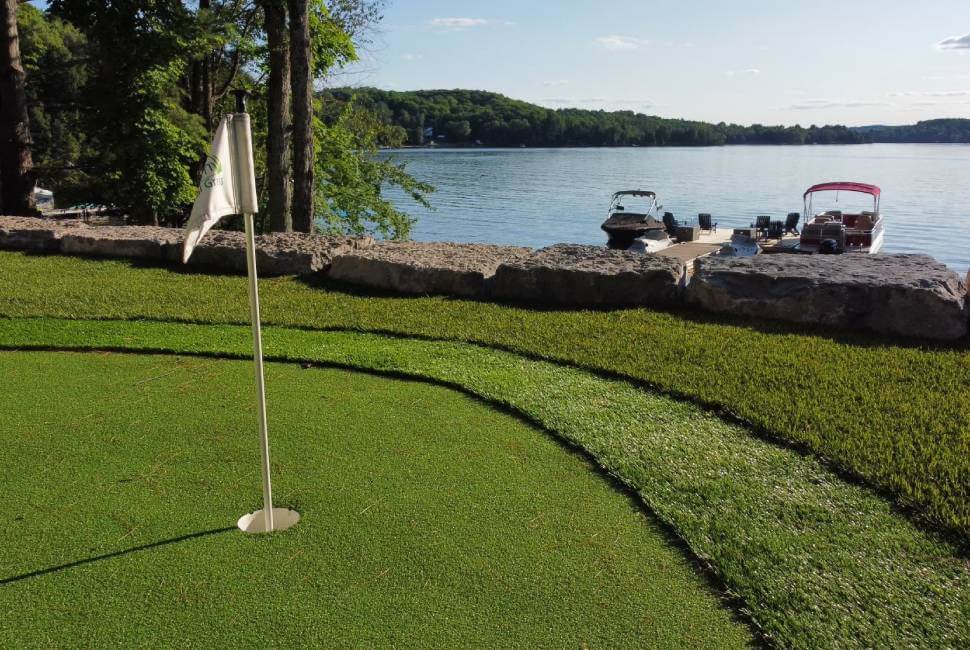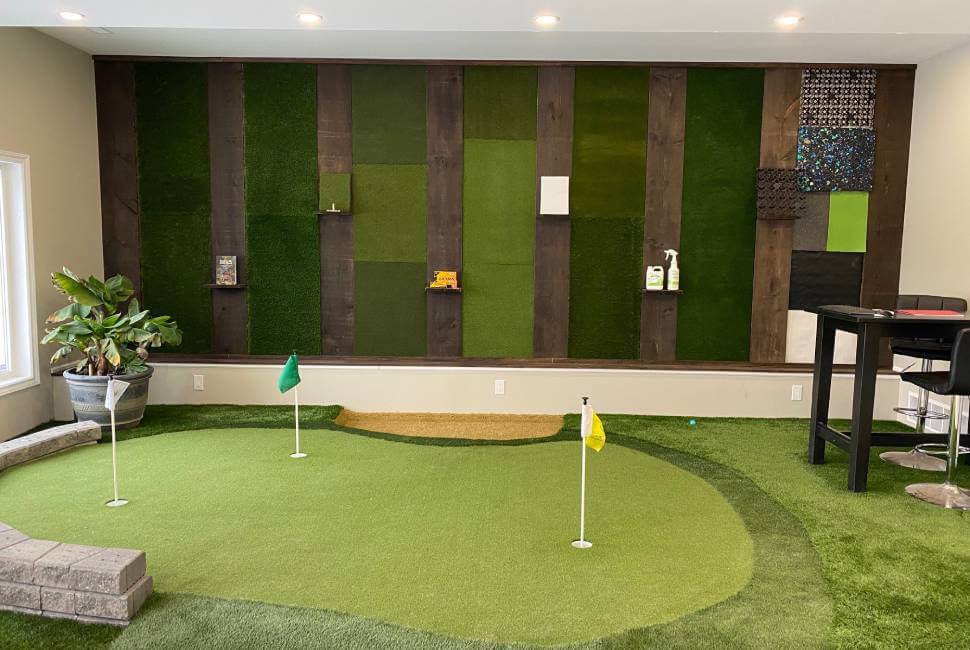 Low Maintenance Putting Greens
Installing an indoor putting green in your home or business can create a fun, stress-relieving activity for you, your family, your employees, or your guests. It can also create unnecessary maintenance if you use traditional golf grass. Thankfully, by working with us at Nevada Artificial Grass, you gain access to our incredibly low-maintenance artificial golf turf. This material requires little to no upkeep since it never needs to be trimmed or watered. All it really needs is an occasional cleaning – much like any other indoor surface.
Remarkable Beauty
At Nevada Artificial Grass, our indoor putting greens capture the remarkable beauty of championship-quality golf grass. This is due to the specially designed and unique fibers featured in our turf. As a result, our indoor putting green installations realistically replicate the look and feel of traditional golf turf, providing your indoor spaces with elegant, lush, green surfaces that are sure to impress.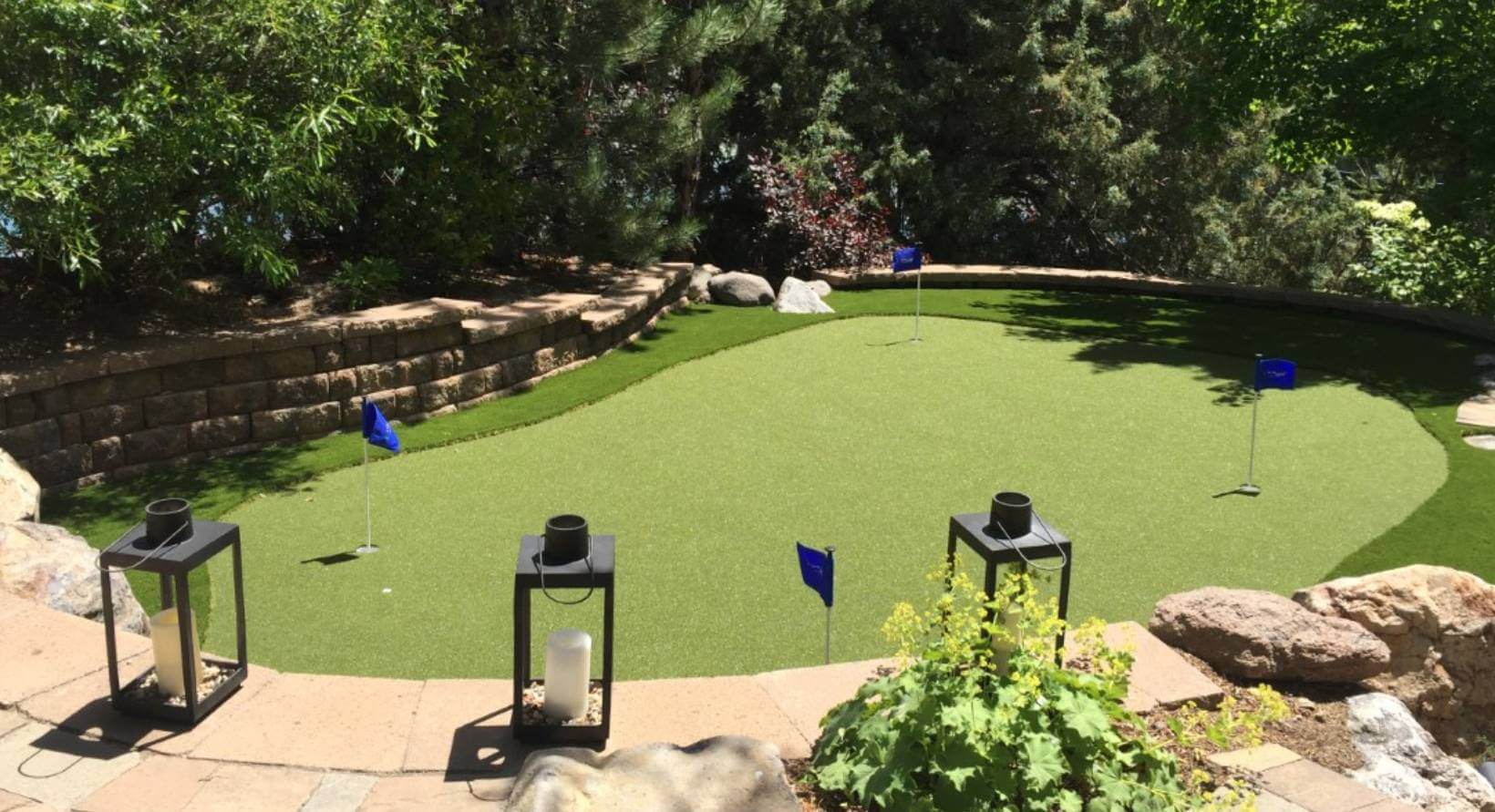 Contact Us For More Information on Indoor Putting Green Grass For Sale & Installation
Indoor putting greens are available in Reno, NV and other Northern Nevada communities from the experts at Nevada Artificial Grass. Our team not only offers top-quality indoor golf grass in the Reno, NV area, but we also professionally design and install putting greens for indoor and outdoor settings. To learn more about what our indoor putting greens can do for your home or business, contact us today!