In many commercial and residential locations around Reno, synthetic turf and artificial grass products are becoming increasingly popular for rooftops, decks and patios.
Be it a backyard patio that has been covered with eye-catching artificial landscaping turf or a trendy downtown rooftop bar that features a relaxing synthetic lawn area especially for barefoot partiers, the designers at Nevada Artificial Grass work hard to create grass products that look and feel like the real thing, but without any of the tiresome upkeep that goes along with owning a natural lawn.
Locally owned and operated, the dedicated Nevada Artificial Grass team has been installing synthetic grass applications for more than a decade. In that time, we have designed and created fully customized artificial turf applications used for many different commercial locations, including golf practice putting greens, indoor pet turf areas, playground play areas, school playgrounds, and many other landscaping turf projects for business facilities.
Installing our natural looking synthetics in urban landscapes and city-based dwellings is an exciting concept for us to be involved in!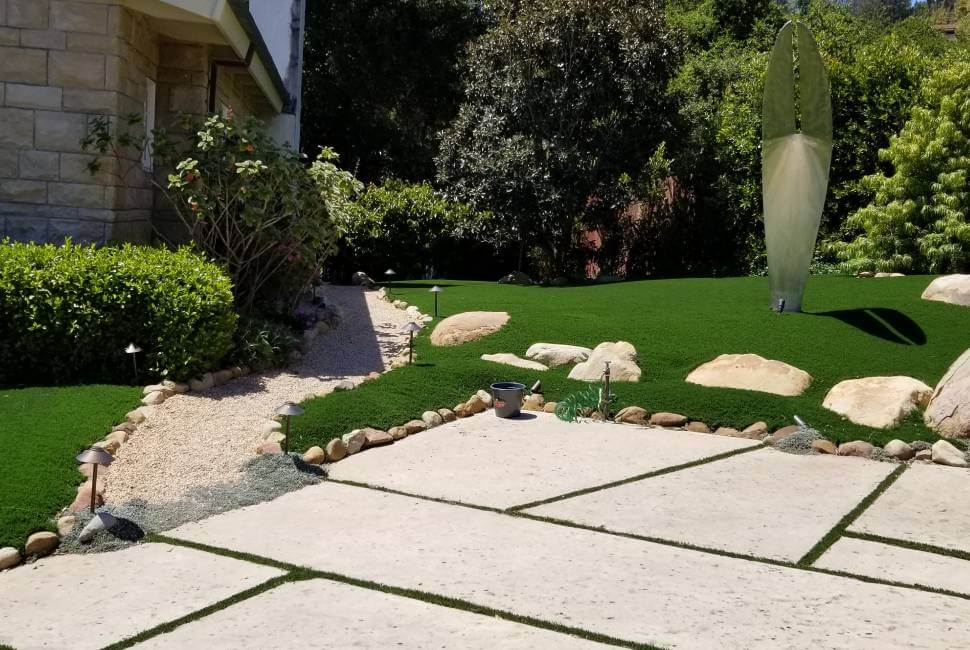 Another prominent field in which Nevada Artificial Grass excels is the creation and installation of residential turf floor surfacing ideal for rooftops, decks, and patio areas.
Our artificial grass applications are a cost-effective substitute for expensive wood decking
Families living in an apartment without a backyard can create their own outdoor space with our artificial turf
Entertain family and friends on a lush, soft surface that remains cool and comfortable even when the temperatures rise
Reduces the need for ongoing lawn maintenance as well as the use of pesticides, fertilizers, and weed killer products
Pets and children love playing on it, whether your installation is located inside or outdoors
Our synthetic lawns are perfect for commercial and residential locations
Durable Artificial Turf For Roofs, Decks & Patios
Nevada Artificial Grass products are so hard-wearing and versatile that the only limit to how they can be used is your imagination. In fact, we are excited to hear that Reno residents are adding new and unique synthetic turf-related applications to their homes all the time!
Serving Reno, Sparks, Carson City, Lake Tahoe and all of Northern Nevada, Nevada Artificial Grass skilled designers and installers have a single key aim: to provide durable, aesthetically pleasing, and long-lasting faux turf products that make your patio, roof, or deck look as comfortable and appealing as possible. In turn, this will help to create a cozy area in which you can relax and entertain all year round, and all on a supple surface that looks and feels just like a genuine lawn.
Call Nevada Artificial Grass Today For A Free Estimate!
At Nevada Artificial Grass, we have established ourselves as one of Reno, NV's leading installers of artificial grass. Thanks to technological advancements, our turf is remarkably lifelike, resilient, safe, and environmentally friendly. This makes it an excellent choice for residential and commercial lawns, as well as golf putting greens, children's playgrounds, pet grass, dog turf, and retail surfaces.
Please get in touch with us to receive a free quote. Our knowledgeable customer service will guide you through the entire process and answer any questions you may have.