At Nevada Artificial Grass, our experts in artificial grass design and installation provide mini golf construction services in Reno, NV. With our skills and experience, our team can add a one-of-a-kind mini golf course to your commercial or residential property. By utilizing our stellar artificial golf grass, your course will be exceptionally playable, low-maintenance, perfectly green, and durable to ensure it lasts for years to come. Owning a Mini Golf Course in Northern Nevada
Miniature golf courses can be an incredibly enjoyable activity for people of all ages and golf skill levels. This smaller version of the game of golf focuses primarily on putting. However, part of what makes mini golf so entertaining are the obstacles and theming of the course, which present challenges and distractions to mini golfers.
For businesses, owning a mini golf course can help attract families and more by giving their guests a fun, accessible activity. This makes it a great addition to theme parks, shopping malls, restaurants, and more in Reno, Nevada. Yet, a mini golf course does not need to be for everyone! If you have the space, the team from Nevada Artificial Grass can also construct a private miniature golf course on your residential property as well.
Specially Designed Artificial Turf for Mini Golf
At Nevada Artificial Grass, we are renowned in Northern Nevada for providing properties of all types with high-quality artificial grass. Our team offers several varieties of synthetic grass – some of which are tailored to specific uses. For mini golf construction, we utilize our championship-quality artificial golf grass. This product provides an ideal surface for numerous golfing scenarios, including putting greens as well as mini golf courses. With it available for your mini golf course construction project, you can gain a stellar surface that is ready to provide you and your guests with benefits for years – even with heavy use.
Benefits of Our Artificial Golf Grass in Reno, NV
By choosing us at Nevada Artificial Grass for your mini golf construction, you gain access to our first-rate artificial golf grass. This specialized synthetic turf provides golf installations and their users several benefits, including:
Artificial Grass Lawns Gallery
Remarkable Playability
The design and production of our artificial golf grass help ensure that golfers who use it experience an ideal playing experience – just like they would on traditional, well-maintained grass. As such, our stellar synthetic golf turf provides golfers and mini golfers alike with perfect playability from bounce to ball roll and more.
Elegant Appearance
Not only does our artificial golf turf play like traditional golf greens, but it also has an exceptional look that is just like a professional course. In doing so, our synthetic golf grass can provide your mini golf course in Reno, NV with an elegant, lush, green appearance that is consistent all year round.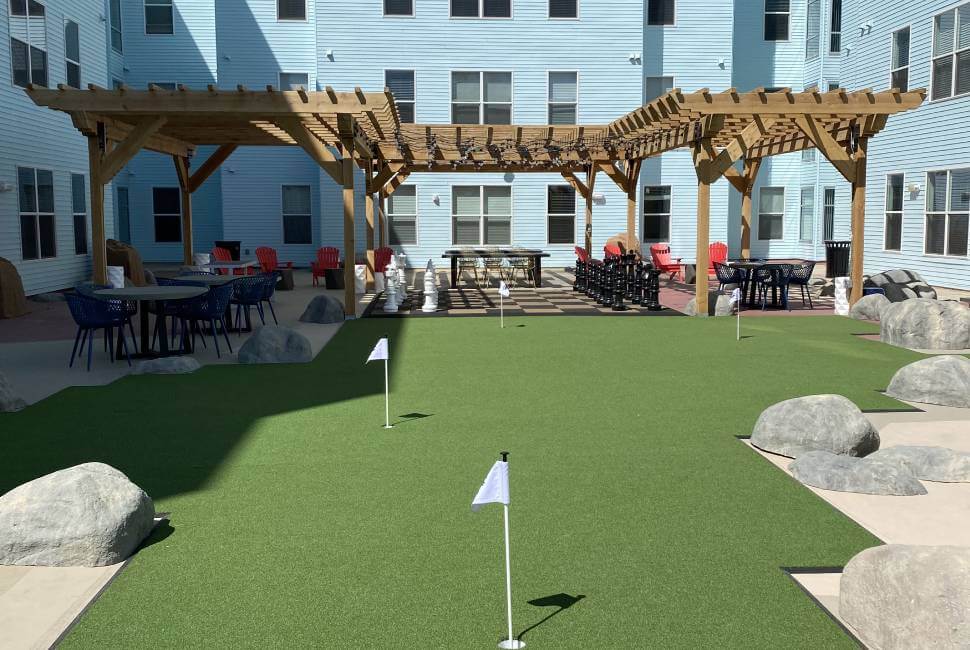 Lack of Necessary Upkeep
Traditional grass and golf grass almost always requires an owner to commit tons of time or money toward maintenance. If not, their grass can turn brown, develop patches, or die off entirely. Situations like this are never wanted and need to be avoided. Thankfully, our synthetic golf turf can help with this! Unlike conventional grass, it requires little upkeep and never needs to be watered or trimmed. As a result, it is a more cost-effective and time-saving surface for mini golf courses.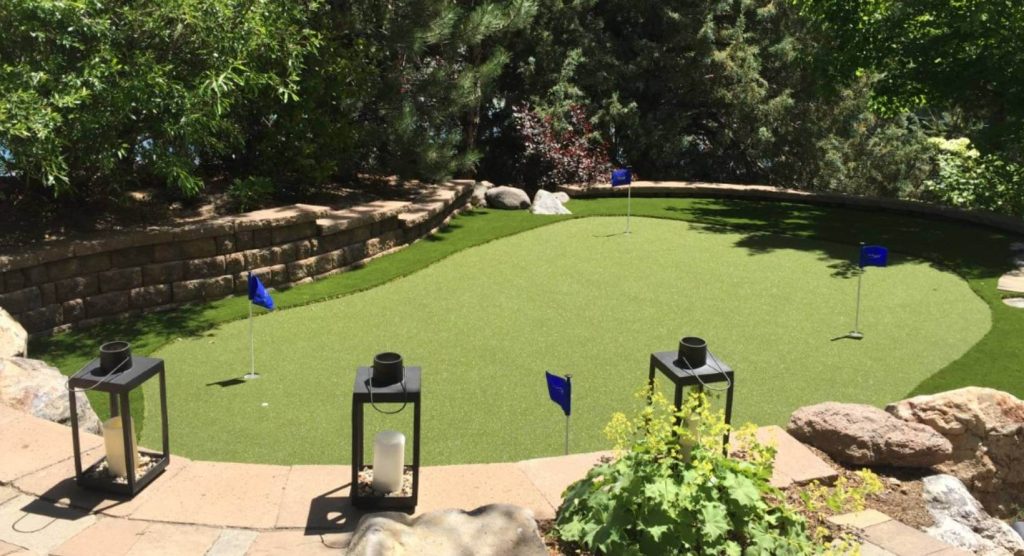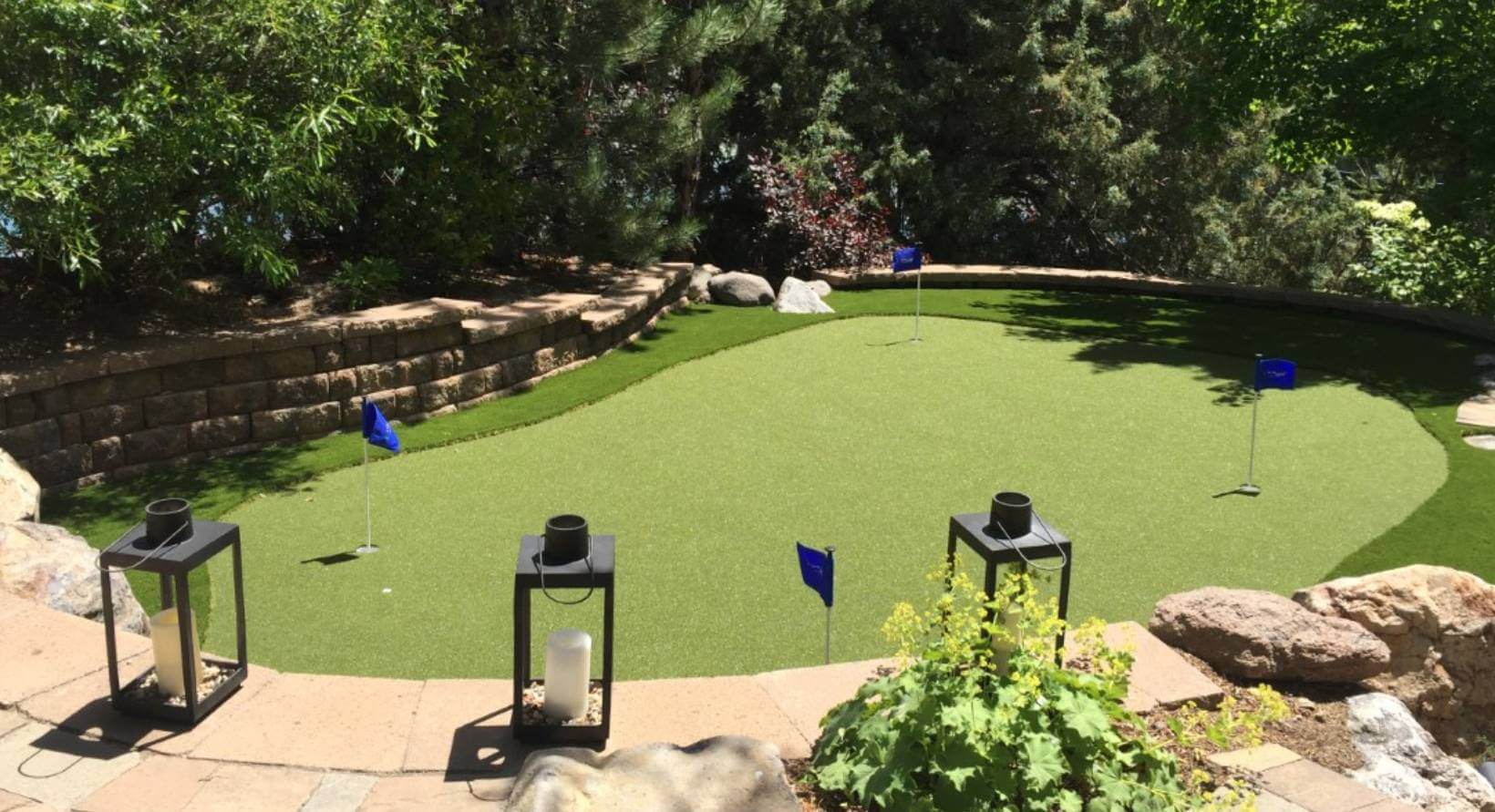 Durability
For commercial businesses in Reno and other Northern Nevada communities, owning durable surfaces is essential, especially when it comes to mini golf courses. Fortunately, our artificial golf grass is exceptionally durable. As such, it can withstand all kinds of wear and tear, including high amounts of foot traffic and impacts from putters. This makes it a long-lasting surface for mini golf courses on commercial as well as residential properties.
Schedule Your Mini Golf Construction Consultation Today!
At Nevada Artificial Grass, our artificial golf grass and expertise allow us to provide comprehensive mini golf construction services in Reno, NV. We work with each of our clients to help create the mini golf course they have been dreaming of. Contact us today to schedule a free consultation to learn more!