Get The Artificial Turf Reno Residents And Commercial Owners Love!
All over Northern Nevada, home and business owners are maintaining high landscaping standards with ease thanks to realistic artificial turf from Nevada Artificial Grass! They have said goodbye to yellowing, patchy, dead grass areas, weeds, or ongoing tribulations with lawns that have become thin and sparse due to extreme temperatures or frequent changes in the climate. It doesn't have to be time-consuming or expensive to keep everything looking clean, orderly, and aesthetically appealing!
Our high-quality synthetic grass lawns are a fantastic substitute for real grass for residential backyards and commercial facilities in:
Washoe
Carson
Douglas
Storey
Humboldt
Elko
Churchill
Perishing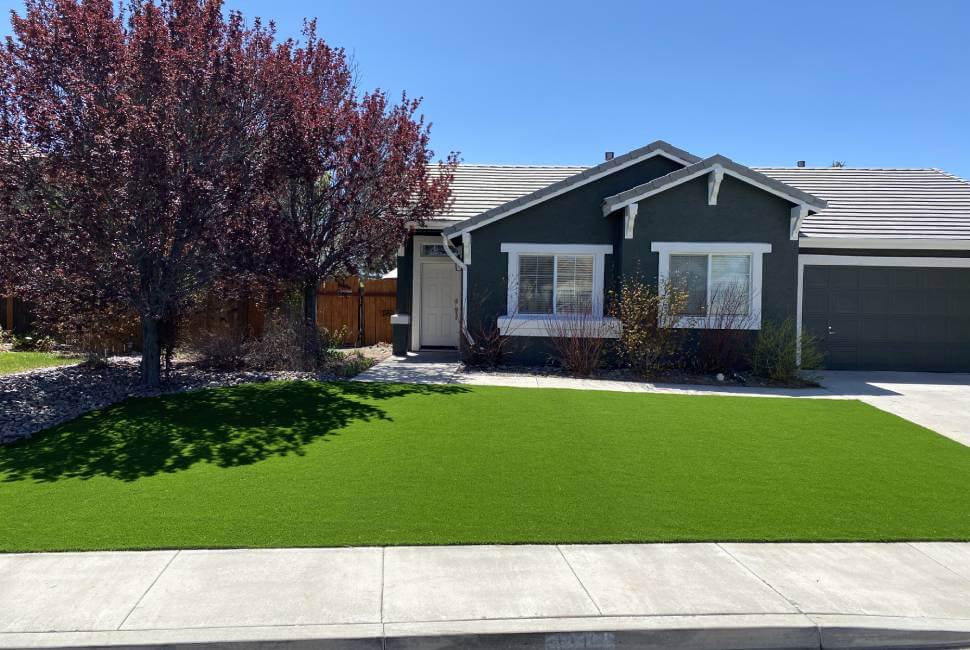 NEVADA ARTIFICIAL GRASS SYNTHETIC TURF MAKES IT EASY FOR YOU TO PUT IN A BEAUTIFUL LAWN.
You'll find our artificial turf in Reno residential locations, including indoor golf practice green areas, rooftops and patios, backyard pet turf runs for dogs and cats, and front and backyard landscaping turf! In addition, Nevada Artificial Grass's artificial turf Reno installers have decades of experience.
We Offer Custom Commercial Artificial Turf Applications Such as:
If you are in the market for artificial grass in Reno, NV for your backyard, home or business, turn to Nevada Artificial Grass of Reno! We have a vast array of synthetic turf options that look and feel just like traditional grass, but without any of the tiresome upkeep that comes with owning a real lawn.
BENEFITS OF SYNTHETIC TURF FROM NEVADA ARTIFICIAL GRASS OF RENO
Synthetic turf in the Reno, Nevada area is a great option for people on the go and for those who do not have time to keep up with lawn care. It offers time-saving along with countless other additional benefits, including:
Backyard and Landscaping Turf Saves Time, Money, and Water
Artificial Turf is Eco-Friendly and Shrinks Carbon Footprints
A Backyard with Synthetic Turf is Always Barbecue-Ready
Enjoy a Lush, Green Space Year-Round
ARTIFICIAL TURF THAT LOOKS & FEELS LIKE THE REAL THING
Homeowners simply adore having a soft, lush lawn that looks immaculate all-year-round, plus Nevada Artificial Grass's turf also means that you will never have to mow or water the grass again! Many of our customers have been astonished to find themselves saving up to half of their water bill after replacing their lawn with synthetic turf.
Our soft artificial grass in Reno is a good alternative for hardscapes or areas where conventional ground cover won't thrive, such as patios, rooftops and more! If you are ready to get a gorgeous synthetic lawn with the playability and functionality of real grass, and transform your Reno space, turn to Nevada Artificial Grass of Reno! Our synthetic turf is the best solution for your residential or commercial property.
Why Work with Us at Nevada Artificial Grass?
When you invest in quality, you deserve to reap the benefits. Your Nevada backyard is not something you should neglect. With Nevada Artificial Grass, one of Nevada's top grass suppliers, you can enjoy a beautiful, low-maintenance yard. If you are looking to find out what synthetic turf in Reno, NV, can do for your home, we're happy to help. We offer a range of products, so no matter your situation or the size of your lawn, we have a solution for you.
Call Nevada Artificial Grass Today For A Free Estimate!
At Nevada Artificial Grass, we have established ourselves as one of Reno, NV's leading installers of artificial grass. Thanks to technological advancements, our synthetic turf is remarkably lifelike, resilient, safer, and environmentally friendly. This makes it an excellent choice for residential and commercial lawns, as well as golf putting greens, children's playgrounds, pet grass, and sports surfaces.
Get in touch with us today to receive a free quote! Our knowledgeable customer service experts will guide you through the entire process and answer any questions you may have.