Welcome to Nevada Artificial Grass, your local expert for artificial grass solutions, right here in Fernley, Nevada! Our company offers a diverse range of artificial turf products and services, including design and installation, to meet the specific needs of your residential, commercial, or recreational spaces. Below is a closer look at some of our many versatile synthetic grass products and their benefits:
Benefits of Synthetic Grass Products From Nevada Artificial Grass
At Nevada Artificial Grass, our many artificial turf products for homes, businesses, parks, golf, and more offer a number of considerable benefits in Fernley, NV, including the following:
Consistent, lush greenery
Soft, comfortable surfacing
Resilient durability
Little to no maintenance needed
Eco-friendly lawns, landscapes, and more
Dependable outdoor surfaces
With one or more of our many artificial grass options, you can radically transform your outdoor spaces, making them more advantageous than ever before!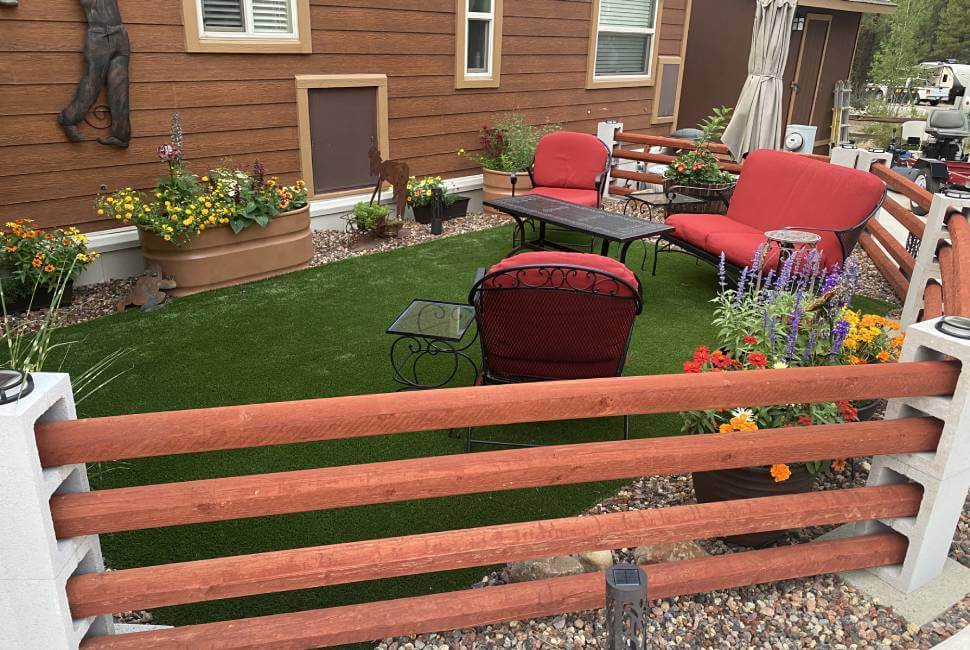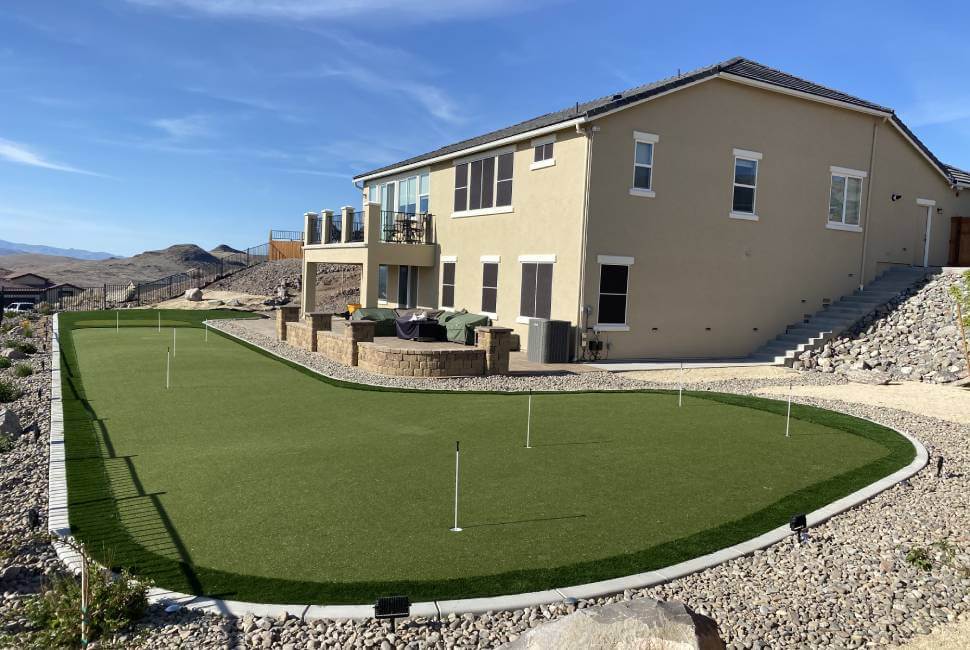 Residential Artificial Grass
Transform your home lawn or garden into a beautiful, easy-to-maintain landscape with our residential artificial grass. Perfect for Fernley's arid climate, our synthetic grass gives you a vibrant, lush green lawn all year round with virtually no maintenance. Say goodbye to watering, mowing,de-weeding, and fertilizing, so you can enjoy more leisure time. This durable, realistic-looking artificial turf is designed to withstand Northern Nevada's intense sun without fading. With the variety of textures and lengths available, we more than likely have the perfect fit for your home aesthetic in Fernley, NV.
Commercial Artificial Grass
Elevate the look of your commercial property with commercial artificial grass from Nevada Artificial Grass. It is a savvy investment that saves on maintenance costs and water usage, making it a sustainable and cost-effective choice. Our commercial-grade turf is made to endure high-traffic areas, and like our residential grass, it resists fading under harsh sunlight. Whether it is an office complex, retail space, or a rental property, our synthetic turf solutions deliver visual appeal and functionality.
Putting Greens
If you have ever dreamt of having your personal golf course, our team is here to make that a reality. Nevada Artificial Grass specializes in designing and installing custom artificial grass putting greens. Perfect your putt or entertain guests with a mini-golf afternoon right in your backyard. Our synthetic golf turf mimics the performance characteristics of a professional course, ensuring a true roll every time. What's more, the durability of our products means you will not have to worry about divots or dead spots.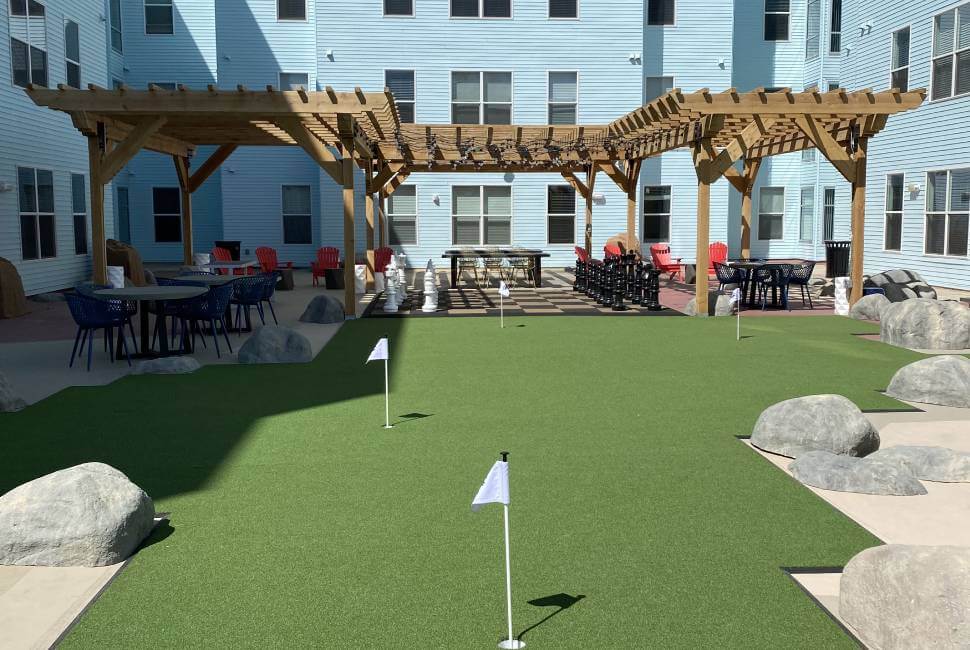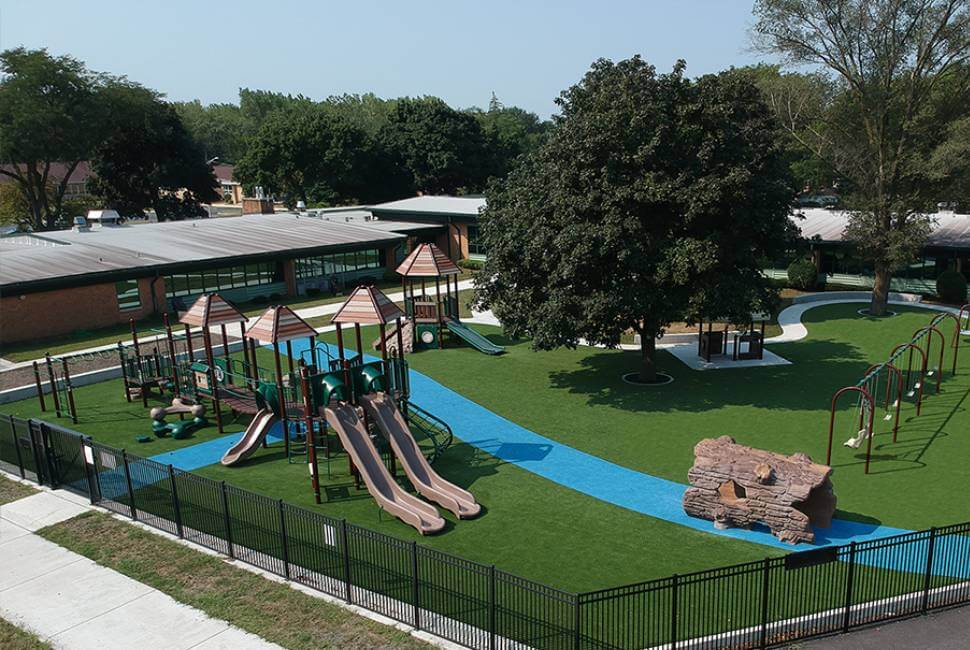 Playground Turf
Finally, let's not forget the youngest members of our community. Nevada Artificial Grass offers artificial playground turf solutions for homes and businesses that are enjoyable but also safer. Our playground turf is extra padded, providing a softer landing for those inevitable trips and tumbles. Additionally, our synthetic playground grass is heat and frost resistant, ensuring the surface remains more comfortable and playable throughout every season.
Dog & Pet Grass
Pets are part of the family, and our pet-friendly artificial grass ensures they too can enjoy the outdoors more safely. Our artificial dog and pet turf is designed with antimicrobial and non-toxic materials that are safer for your furry friends. Plus, it is easy to clean and odor resistant, making it the ideal choice for pet owners in Fernley, NV. Our synthetic pet grass provides a comfortable surface for your pets to play on and withstands their activity without getting easily damaged.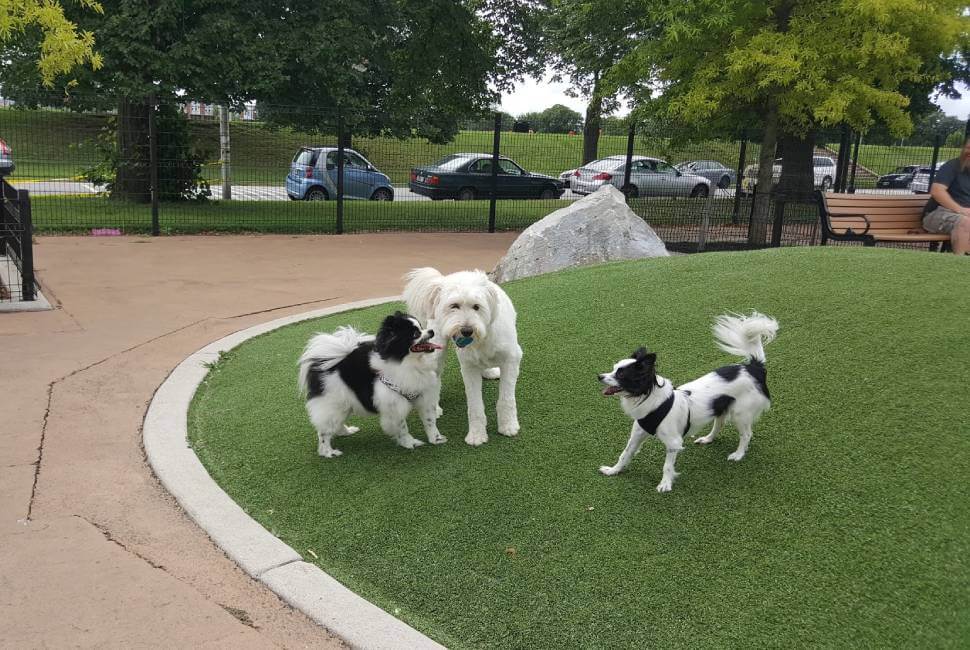 Contact Us Today to Learn More About Artificial Grass Installation in Fernley, NV!
At Nevada Artificial Grass, we are dedicated to providing high-quality, durable, and environmentally friendly artificial grass products in Fernley, NV. Our professional team is committed to helping you choose the best solution for your specific needs and ensuring that the installation process is seamless. So embrace the future of landscaping with Nevada Artificial Grass. Whether you are in Fernley or beyond, we are excited to help you transform your outdoor space into a beautiful, low-maintenance haven that you can enjoy all year round.
Contact us today to learn more and get a quote for your home or business!