Artificial dog turf from Nevada Artificial Grass provides you and your pet in Reno, Nevada with a convenient surfacing solution for them to do their business all year round. While snowy weather may be a nightmare for other pet owners, it will not be a problem for you with our artificial pet grass! With it, you and your furry companion can have an evergreen space that withstands snowfall, so you can always have a place for your pet to relieve themselves.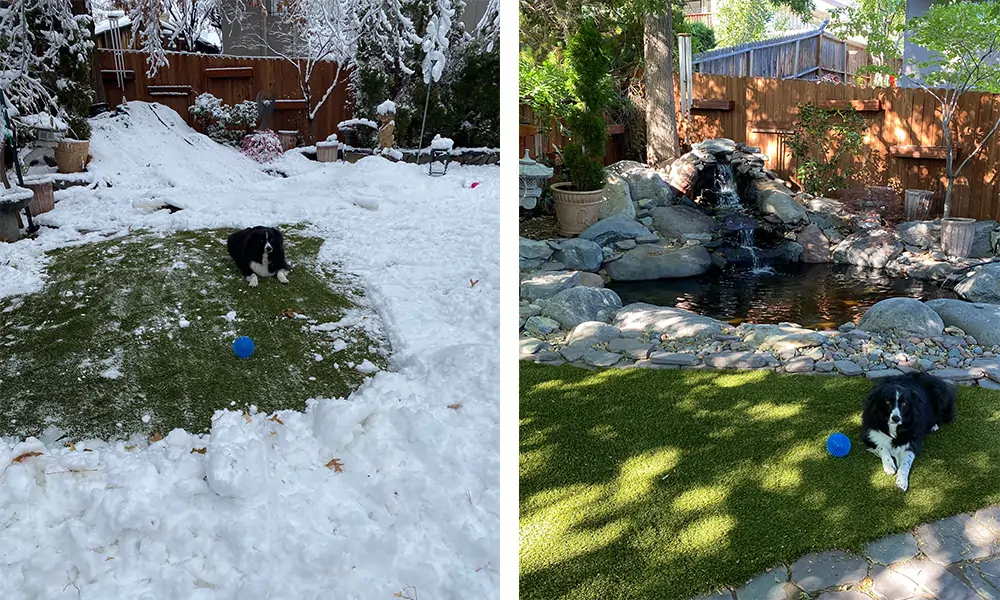 Give Yourself & Your Dog a More Convenient Surface – Even During Snowy Winters
At Nevada Artificial Grass, our artificial turf for dogs and other household pets provides homeowners and pet business owners with several benefits. Yet, one of the most beloved benefits for pet owners here in Reno, NV is the convenience it provides them and their pets during winters, especially in regard to the restroom needs of pets.
For home or pet business owners with traditional grass, snowy winters can be an unwanted challenge. Their pets are often used to soft, green grass when relieving themselves. But with snow on the ground, conventional grass dies off, leaving only hard, cold dirt behind. This typically causes dogs and other pets to not want to do their business – unless they absolutely have to. In situations like these, you can be stuck outside in the cold with your pet for much longer than necessary.
Thankfully, with our artificial dog turf installed on your Reno, Nevada property, you will own a soft and inviting grass surface that retains its lush, green look and feel all year round – even during cold, snowy winters. So if your pet needs to go outside and relieve themself, all you need to do is shovel away some snow as normal, and there will be a welcoming and familiar patch of grass beneath, ready to be used by your dog or other pet.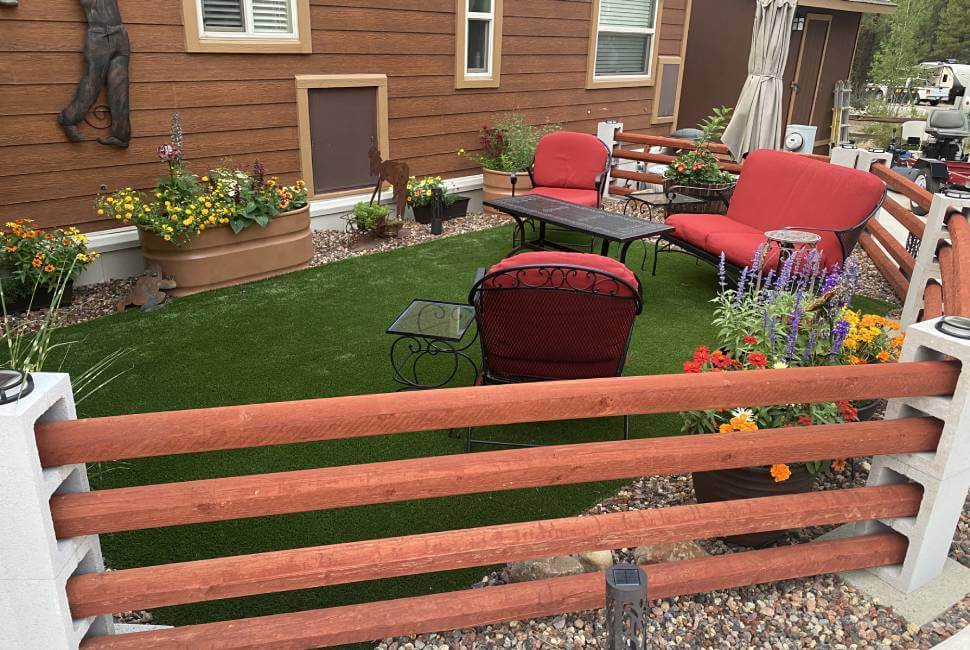 Artificial Grass Stays Green All Winter Long in Reno, Nevada
Artificial grass supply and installation is what we do at Nevada Artificial Grass. And for areas that experience snowfall like Reno, NV, our artificial grass products are perfect for lawns, landscaping, and more. This is primarily because our synthetic turf does not succumb to the cold and weight of snow like traditional grass surfaces. So instead of dying off and leaving behind unsightly patches of dirt, our artificial turf retains its lush, green appearance, making it continually inviting for you to enjoy and your pet to conduct their business on at any time of the year.
Other Benefits of Installing Artificial Dog Turf in Reno, Nevada
At Nevada Artificial Grass, some of the other benefits of our artificial pet grass can provide properties in Reno, Nevada include the following:
Little to no maintenance
No trimming or mowing
No watering
Durability
Quick drainage for liquids
Inhospitable to insects & rodents

By installing our artificial dog turf on your Reno, Nevada property, you can own a lawn or landscaping that is simple to maintain and easy to clean. Plus, with its enhanced durability, it will be a long-lasting surface for you and your pet to enjoy!
Learn More & Get a Quote for Synthetic Pet Turf Today!
Artificial dog turf from Nevada Artificial Grass is ideal for pet-friendly lawns and landscapes in Reno, Nevada. Our remarkable artificial pet grass retains its welcoming lush and green appearance all year round – even during snowy weather. This helps provide a convenient, easy-to-clean surface for your dog or other pet to do their business at any time of year.
Contact us today to learn more and get a quote for our synthetic pet turf!