At Nevada Artificial Grass, our artificial grass serves as an excellent option for making your outdoor space in Reno, NV, look lush and inviting without the need for constant maintenance, and there are numerous other benefits to making the switch from a traditional to an artificial grass lawn. However, not all artificial grass is made equal, so it is important to look for quality when shopping around. At Nevada Artificial Grass, our American-made artificial turf stands out from its many competitors as being of superior quality and notably more reliable, which is why you should only install artificial grass made in the USA.
What Is Artificial Grass?
Artificial grass is one of the many incredible advancements that humans have achieved! It is a transformative material manufactured from synthetic fibers that look and feel like conventional grass. Individuals and businesses can use our synthetic turf for artificial lawns, outdoor playing fields like golf courses and soccer fields, and commercial as well as residential landscaping.
At Nevada Artificial Grass, our synthetic grass is also fantastic when installed on rooftop gardens, balconies, and patios. With our artificial turf, you can receive all the benefits of traditional grass, including its beautiful appearance and soft feel, while requiring considerably less maintenance than its organic counterpart.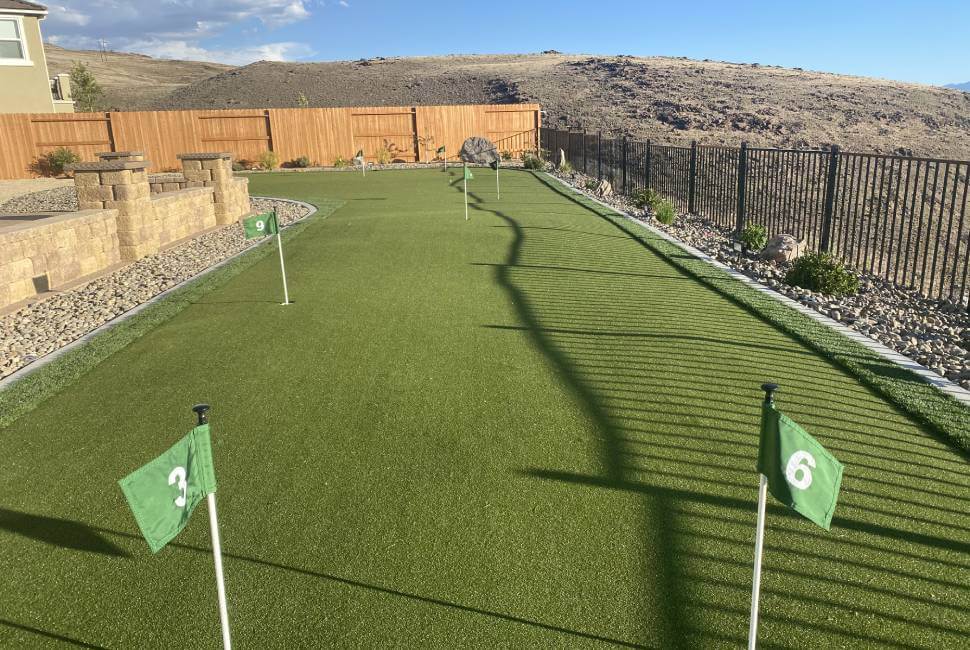 Why You Should Only Install Artificial Grass Made in the USA
With American-made artificial grass from us at Nevada Artificial Grass, the benefits are seemingly endless. Here are some of the many key reasons why you should choose our artificial grass for your property in Reno, Sparks, Carson City, or Lake Tahoe, NV:
Superior Quality
When it comes to artificial turf, artificial grass made in the United States is of a higher quality than international options. At Nevada Artificial Grass, our American-made artificial grass is manufactured to strict standards. We use high-grade materials, which results in synthetic grass products that are more durable and often have a longer lifespan than our competitors.
Cost Savings
Some home and business owners may be tempted to resort to international artificial grass because it is often cheaper in terms of upfront costs. However, American-made artificial grass from Nevada Artificial Grass is more cost-effective than imported grass. This is primarily because our high-quality artificial turf products hold up much more effectively in the long run and require less maintenance than cheaper options from other countries.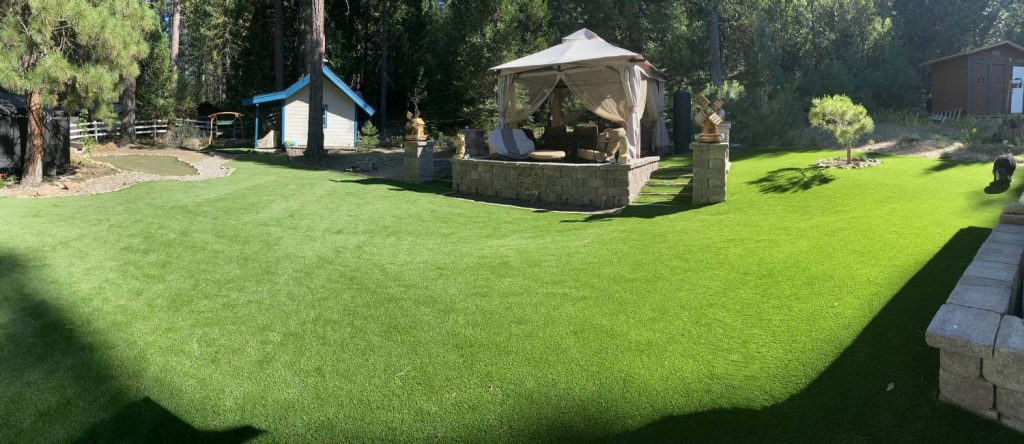 Environmental Benefits
American manufacturers, including producers of artificial grass, adhere to stringent environmental regulations that do not exist in some foreign countries. These strict regulations mean that our artificial turf products and production process will not utilize dangerous chemicals or other materials that harm the environment, making our turf and manufacturing far more eco-friendly. Plus, with our top-quality synthetic grass, you can reduce environmentally harmful forms of lawn maintenance, such as frequent watering and mowing with a gas-powered lawn mower, which can help the local environment in Reno, Nevada.
Better Appearance
Sadly, many imported artificial grass turfs feel cheaper, less soft, and more like plastic since they are made with cheaper materials. Fortunately, American-made artificial grass from us at Nevada Artificial Grass looks and feels more like authentic grass. This helps provide your home or business in Northern Nevada with better curb appeal, which can impress virtually everyone – from friends and family to neighbors and guests. And with the durability of our first-rate artificial turf products, you can expect to depend on the beauty of our synthetic grass lawns and landscaping for years to come – even in inclement or changing weather.
Contact Us Today to Learn More
For lawns and landscaping in Reno, Nevada, you should only install artificial grass made in the USA from Nevada Artificial Grass. Our American-made artificial turf is not only of a higher quality than foreign alternatives, but it also has a longer lifespan, is remarkably realistic in look and feel, and provides multiple eco-friendly advantages. So contact us today to learn more and get a quote for American-made synthetic grass in Reno!