At Nevada Artificial Grass, we supply and install artificial grass lawns for homes and businesses in Reno, NV, which can help save property owners time on traditional forms of lawn maintenance. This is because our stellar synthetic grass eliminates several types of lawn upkeep while still providing Northern Nevada properties with consistent and elegant greenery. Discover how much time you can save by switching to an artificial grass lawn in Reno, Sparks, Carson City, or Lake Tahoe, NV today!
No Mowing
One of the most time-consuming forms of lawn maintenance is mowing. Depending on the size and scope of your lawn or landscape, going over it with a lawn mower can potentially take hours for each mowing. And if you add that up over the course of a year, you may find that mowing your lawn took up an equivalent of days of your life. Thankfully, our artificial turf blades never grow, so they never need to be kept in check by using a lawn mower. As a result, home and business owners can save countless hours and even dollars.
No Edge Trimming
Another aspect of keeping a traditional grass lawn perfectly manicured is edge trimming. While mowing eliminates the bulk of excess, overgrown grass, edge trimming helps keep the edges of a lawn or landscape looking their best. Much like mowing, this process can be undeniably time-consuming. Fortunately, with an artificial grass lawn from Nevada Artificial Grass, you do not have to worry about edge trimming, allowing you to spend your time enjoying your lawn instead.
No Pulling or Killing Weeds
Within the growth of conventional grass lawns are not just varying blades but also often weeds. For many home and business owners, weeds can be the bane of their existence, causing their grass to look less than ideal and possibly even leading to fines from a homeowners association. Luckily, with our synthetic grass, weeds can become a concern of the past. This is because these pesky plants are unable to penetrate through our artificial grass lawn backings. As such, home and business owners no longer need to pull weeds or spray them with chemical weed killers.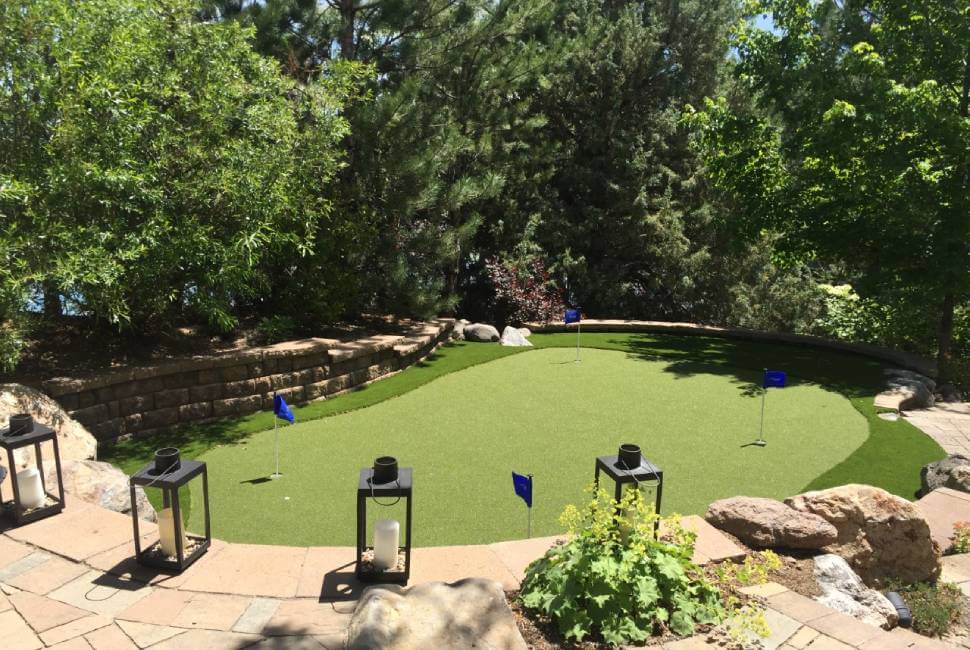 No Watering
Water conservation is a vital concern for those living in Nevada as well as the rest of the South Western United States. In this area, droughts are frequent and can cause state water agencies to place bans on how water can be used. A common ban is on the watering of conventional grass lawns, which can undoubtedly help save water but leave properties with patches of unappealing dirt.
Fortunately, artificial grass lawns from Nevada Artificial Grass never need to be watered. They look beautifully lush and green regardless. This allows home and business owners in Reno, NV to not only save time and money but also conserve water, which makes our synthetic turf a water-friendly investment.
Further Benefits of Artificial Grass Lawns
Saving time on lawn maintenance is one of the many benefits of installing artificial grass in Reno, NV. Some of the other benefits of switching to an artificial grass lawn include:
Consistent, lush, green grass
Resistance to wear & tear
No reaction to changing weather
No production of traditional grass allergens
Inhospitable to insects & rodents
Environmentally friendly
Enjoy these benefits and more by choosing a low-maintenance artificial grass lawn from Nevada Artificial Grass!

Why Choose Nevada Artificial Grass?
The team from Nevada Artificial Grass provides Reno and other Northern Nevada communities not only with elegant artificial turf products but with expertise in synthetic lawns and landscapes. We work with each of our customers to provide them with a lawn, landscape, or putting green that suits their style and needs. In doing so, our team can offer you the artificial grass alternative that you have been searching for.
Schedule a Free Consultation to Learn More About Low-Maintenance Artificial Grass
At Nevada Artificial Grass, our stellar artificial grass lawns help property owners in Reno, NV save time on lawn maintenance. They also help provide their home or business with a more durable and beautiful patch of greenery that can enhance their curb appeal and impress their neighbors. Contact us today to schedule a free consultation to learn more about our low-maintenance artificial grass lawns!