Artificial grass installation from Nevada Artificial Grass is an amazing way to improve the look and feel of your property in Reno, NV and other Northern Nevada areas. It can be installed in a variety of ways, and you can even customize it to fit your space or needs! Our synthetic turf is also much easier to maintain than traditional grass and does not require watering, trimming, or fertilizing to keep it looking its best.
Before we review the questions you need to ask before installing artificial grass, let's examine why there has been an ongoing trend in using synthetic turf for residential and commercial lawns and landscaping:
Why Switch to Artificial Grass?
An artificial grass surface is a type of synthetic turf that has been in use on sports fields and golf courses for some years. However, it has more recently gained significant popularity in residential and commercial areas as a low-maintenance lawn alternative to conventional grass.
At Nevada Artificial Grass, our artificial grass is ultra-realistic and soft to the touch. It can be installed on almost any surface, including concrete, asphalt, and gravel. It can also be used to cover other, more expensive types of flooring, such as tile or stone.
Questions to Ask Before an Artificial Grass Installation
If you're considering making the switch from traditional grass to synthetic grass, here are some questions you should ask before an installation:
How Reputable are the Manufacturer and Installer?
While it is possible to generalize the definition of synthetic surfaces, not all artificial grass is the same. The synthetic turf industry is flooded with generic imports that are far less expensive than high-quality, American-made products generally available on the market. Unfortunately, some artificial grass vendors may offer you cheaper, low-quality options to increase their bottom line.
A better alternative is to choose a manufacturer and installer, like Nevada Artificial Grass, with a long-standing and well-deserved reputation for quality and excellence in the artificial grass industry.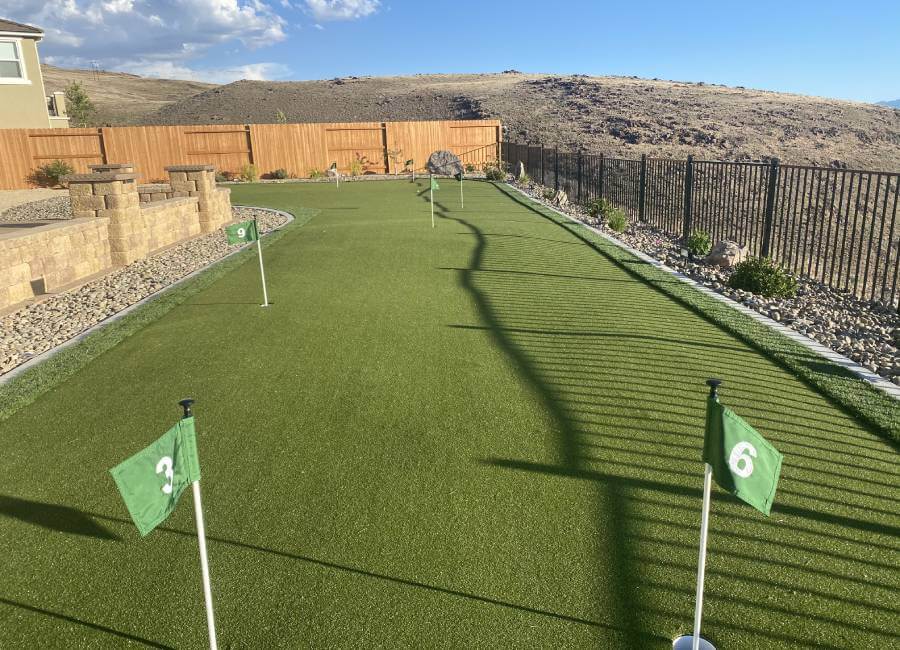 Will You Perform the Installation Yourself (DIY)?
If you enjoy DIY projects or are familiar with installing artificial grass, you can purchase synthetic turf from a wholesaler or contractor. However, it is essential to research artificial grass vendors to ensure you purchase a quality product.
If you are like most people and do not want to mess with the installation process, it is vital to research and select a vendor who not only sells high-quality synthetic turf but also provides reliable installation services, such as our team at Nevada Artificial Grass. We not only supply high-quality synthetic turf; we also offer professional installation in Reno, Sparks, Lake Tahoe, and Carson City, NV.
What Type of Surface are You Looking to Install?
Artificial grass can be installed in various settings and situations. This includes residential and commercial lawns, golf putting greens, children's playgrounds, pet areas, and sports fields. Identifying where you want to install your turf and what you want to use it for can assist an artificial grass company, like Nevada Artificial Grass, in selecting the most appropriate product for your needs and budget.
This step in the installation process is crucial because synthetic turf products are often designed for different requirements and needs. For example, if you are looking for children's playground turf, you should look for companies like us that provide synthetic turf with extra padding or backing as well as cooling technology to keep the surface from burning bare feet. In doing so, you can help ensure a safer and more durable surface is used for a children's playground.


Contact Us for A Free Consultation
Artificial grass installation from Nevada Artificial Grass is an excellent choice for both residential and commercial properties in Reno, Nevada. Our synthetic turf can lend an air of elegance to the overall design of an outdoor space and make the area appear more inviting. Additionally, our artificial grass comes with a slew of advantages. For example, it never requires trimming, edging, or chemical treatment, and it retains its attractiveness regardless of average weather or everyday wear and tear.
From these benefits, artificial turf installation has become a popular alternative for countless home and business owners wishing to transform their lawns into attractive spaces. Contact us at Nevada Artificial Grass today for additional information on artificial grass installation, or schedule a complimentary consultation!