Nevada Artificial Grass is a leader in the design and installation of artificial putting greens in Reno, NV since our inception. Whether you need putting greens for a mini-golf course, or a personal putting green in your yard, you can count on Nevada Artificial Grass to meet your specific needs. In addition to being thoroughly acquainted with the Nevada golf scene, we understand the intricacies of the game and the complex surface requirements.
Our extensive knowledge has gone a long way in designing and developing realistic-looking artificial putting and golf greens.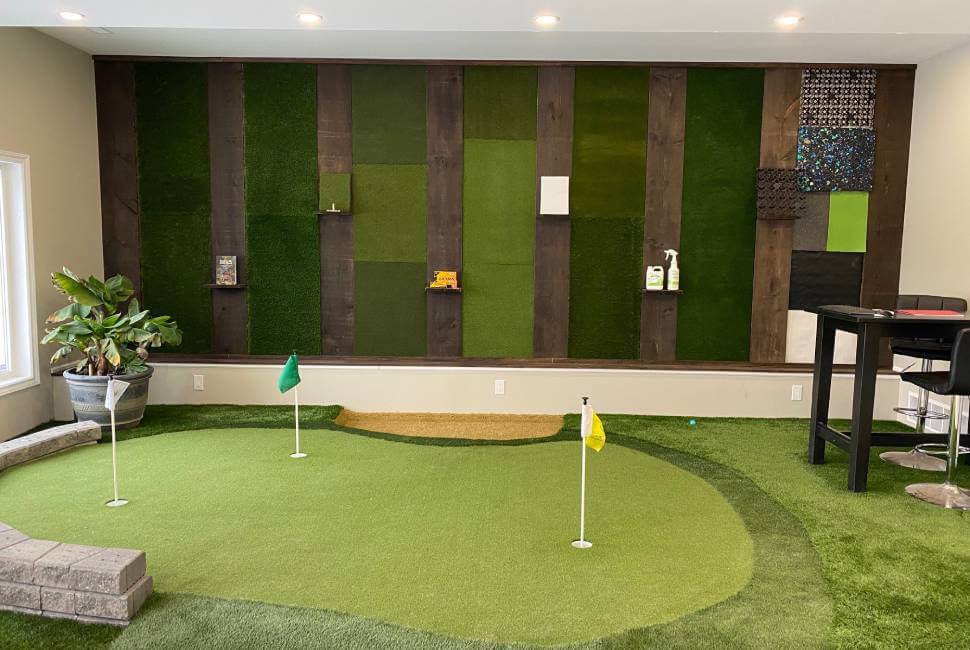 Here are 6 reasons why our artificial grass is perfectly suited to putting greens in Reno, NV.
Astonishingly Lifelike
Due to significant technological advancements in creating synthetic turf, Nevada Artificial Grass's synthetic turf is exceptionally lifelike without sacrificing durability. As a result, it is a popular choice at several mini-golf, commercial, and recreational golf facilities located around Reno, Nevada.
UV-Resistant
Our artificial putting green turf has become a coveted feature at a growing number of golf courses, houses, and places of entertainment. One of the primary reasons for this growth is its resistance to the sun's ultraviolet rays. We've all grown accustomed to seeing natural grass on most of Nevada's golf courses. But while it is lovely, it cannot endure the sun's UV rays without developing unsightly discoloration.
Sun exposure is never an issue with our synthetic turf. That's primarily due to our manufacturing process, which incorporates protective components such as a protective coating that absorbs UV rays, ensuring that our turf is exceptionally durable. That guarantees that our turf will remain in great condition regardless of use or season.
Our artificial grass is highly durable and can even be used at commercial driving ranges.
Play at Your Leisure
Nevada Artificial Grass has extensive expertise designing and installing backyard putting greens for residents of Reno, NV. Our backyard putting greens are specifically designed to assist you in honing your golfing skills. You can practice and play at any moment on your own backyard turf. This is a significant benefit, as it reduces the time required to travel to and from distant golf courses.
Highly Customizable
Nevada Artificial Grass is always open to new and innovative ideas. Our professional staff is experienced in designing custom putting greens for residential and commercial applications. We consult with you directly to establish your needs and choose the most appropriate turf for your golfing demands. We can assist you regardless of the size of your project.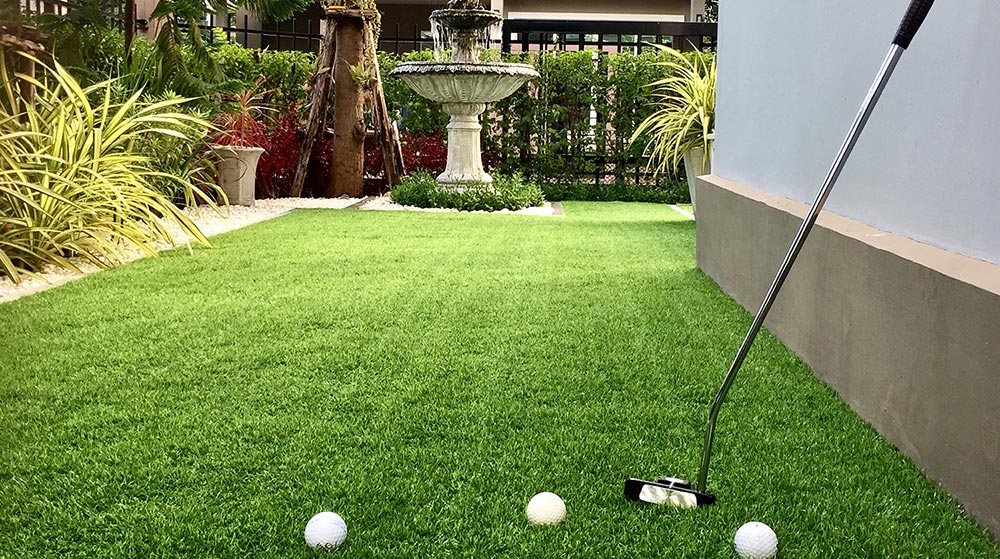 Low Maintenance
One of the primary advantages of installing artificial putting greens is the low maintenance requirements. Natural grass can be sufficient for golfing purposes, but only after significant lawn care efforts. It requires constant maintenance, including cutting, edging, and sprinkler systems. This work comes in addition to the vast volumes of water necessary to maintain the grass's hydration.
Contrary to natural grass, synthetic turf is remarkably low maintenance. It maintains its ideal consistency and opulence without the need for lawn care or fertilizer. This affords significant time and money savings for residential and commercial consumers in Reno, NV.
Eco-friendly
Reno, NV is quite arid. The climate makes it incredibly expensive to operate and maintain traditional grass golf courses due to their insatiable need for massive amounts of water and chemicals. Artificial turf has been deemed one of the most eco-friendly ways of enhancing golf course landscapes.
Synthetic grass by Nevada Artificial Grass does not require any water or fertilizer treatments. This has substantial ecological benefits since it mitigates the level of harmful toxins which end up in the soil and water. Similarly, the absence of lawn mowing equipment means the reduction of carbon emissions from the atmosphere.
Contact Us for a Free Consultation
Nevada Artificial Grass has cultivated an enviable reputation as one of Reno's leading artificial grass installers. Our putting greens and golf turf are renowned for superior quality, durability, aesthetic appeal, and eco-friendliness.